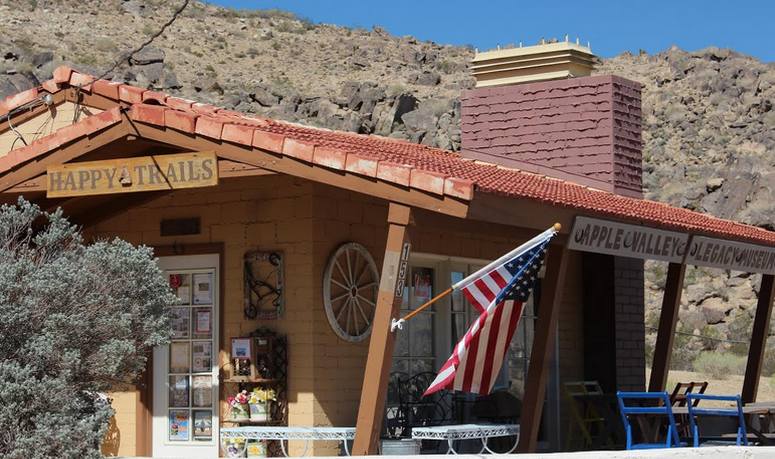 The Apple Valley Legacy Museum is the newest spoke in a wheel of preserving the town's past. The mini-museum/visitor's center is a great place to learn about the area's history and ideas for preserving local icons.
Located in the former Bob Hope Cottage on the grounds of the Historic Apple Valley Inn, it is conveniently close to the Town's civic center.
Sitting directly behind the museum is Hilltop that is in the process of being acquired, and the various aspects including hiking and equestrian trails, plus picnic areas and viewpoints.
Local historian Marcella Taylor started the museum to showcase local collectors' pieces. She is an avid collector of memorabilia from Roy Rogers, Dale Evans, and other historic figures who called this area their home and has lived in the Rogers' home on Highway 18 since 1990.
The history of Hilltop and the proposed Apple Valley Legacy Trail project are a featured display of the new museum.
Museum displays include artifacts, memorabilia, news clippings, books, magazines, dolls, toys, maps, posters, records, postcards, photos, and much more. Some old cowboy films on VHS are available for check out.
Collections are on display from local community leaders and families. These include the Apple Valley Inn, Roy Rogers & Dale Evans, A.V. Fire District, Yucca Loma Ranch, Murray's "Overall Wearing" Dude Ranch, Herb Jeffries, Apple Valley Library, Terri Lee Dolls, Apple Valley Dairy, the Apple Valley Ranchos Housing Development and much more.
The museum acts as an official visitors center for the Apple Valley Legacy Trail project, including historical information and future plans for the property. The museum is open daily from 10 a.m. to 4 p.m. After entering through the Apple Valley Inn gateway, look for a sign with a green arrow on the right-hand side.
The Apple Valley Inn opened in 1948 and was a popular vacation destination for Hollywood celebrities up until the early 1960s. Celebrities that visited the inn included Bob Hope, Marilyn Monroe and John Wayne The Apple Valley Inn closed to the public in 1986. Most of the buildings are still there including the Bob Hope Cottage which now houses the Apple Valley Legacy Museum.
The museum is in cottage #153. Volunteers are needed in many capacities for both the museum and the legacy trail project. This article was submitted by the Apple Valley Legacy Museum.