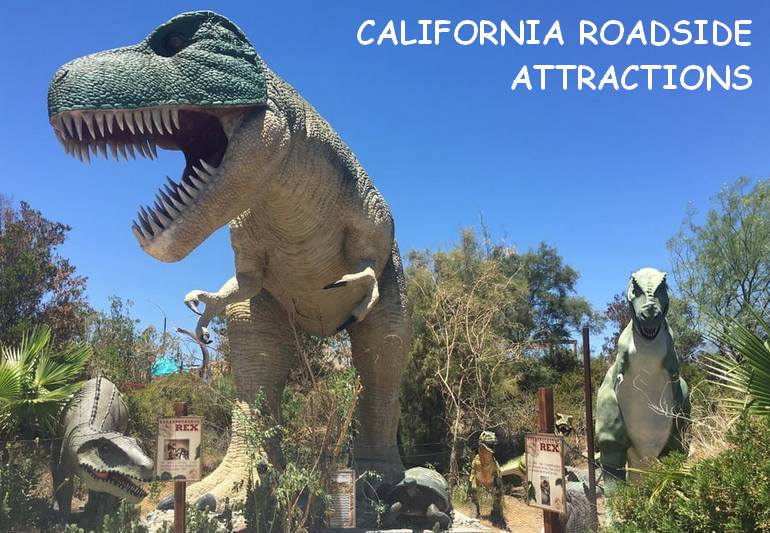 No road trip would be complete without a stop at a roadside attraction. At one time, there were hundreds of these attractions scattered along California Highways. Many of these iconic landmarks disappeared with the construction of multi-lane freeways. Today there are still a few of the original roadside attractions and "internet attractions" made popular by social media and websites like this one.
Southern California Roadside Attractions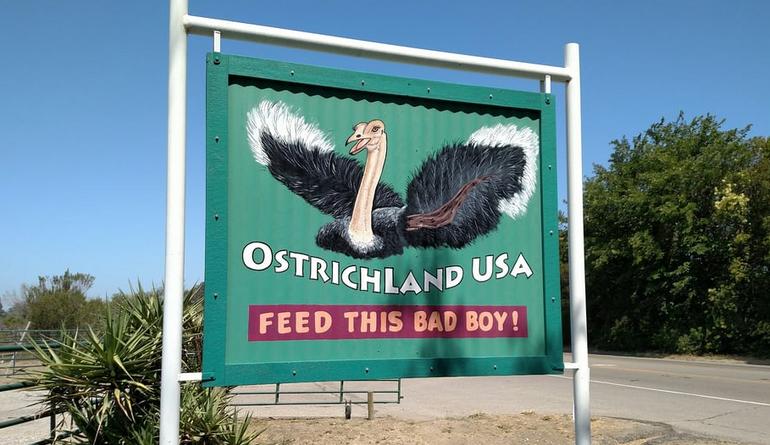 One of California's most iconic roadside attractions is located just off Highway 101 on the central coast, just outside of the town of Buellton. Visitors can feed and take photos of the huge birds that live on the 33-acre farm. A small gift shop features Ostrich related items, including jerky and Ostrich eggs. Ostrichland USA 610 E Highway 246 Solvang, CA 93463.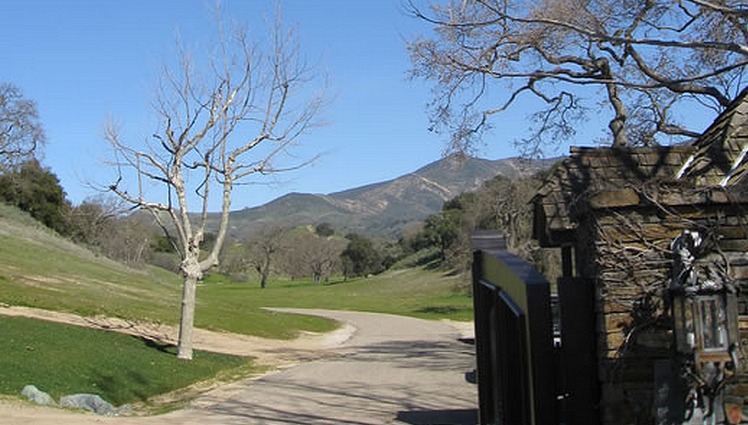 The one-time ranch of pop star Michael Jackson has become a roadside attraction for fans from all over the world. The ranch gate is as close as most people ever get to Neverland. Fans leave notes, presents, and tributes to Michael Jackson on the gate and adjacent walls. You can peek over the fence, but Jackson's ranch home is not visible from this vantage point. Michael Jackson Neverland Ranch 5225 Figueroa Mountain Rd, Los Olivos, CA.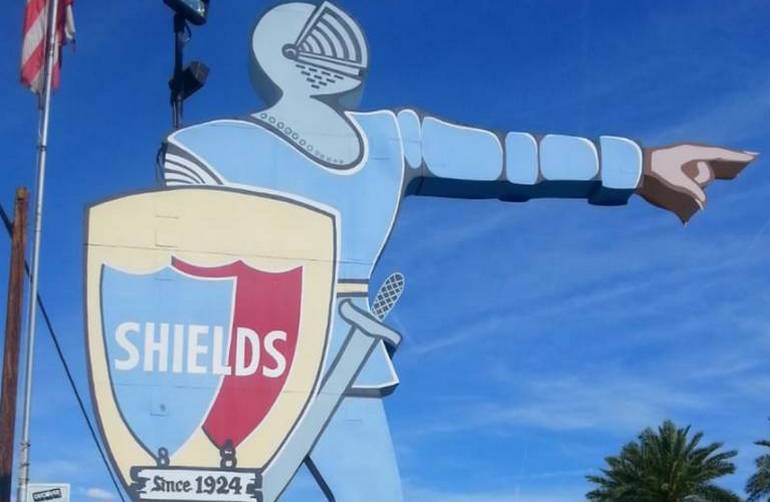 Founded in 1924, Shields Date Garden is one of California's oldest roadside attractions. In the 1950s, the buildings that house the store, theater, and date packing area were added. Shields looks almost the same as years ago, including the iconic Knight Sign that guards the entrance to the gardens. Shields Date Garden 80225 CA-111, Indio, CA 92201.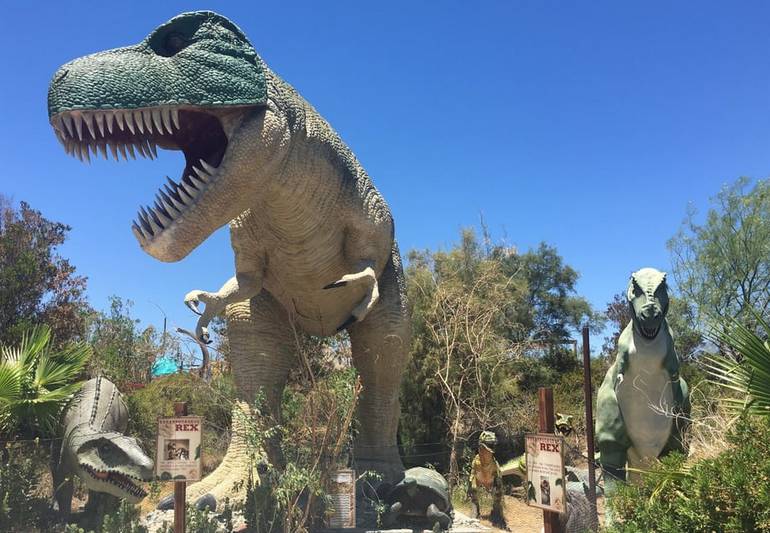 Cabazon Dinosaurs Cabazon California
If there was an award for best California roadside attraction, Cabazon Dinosaurs might just get the title. Since 1964 the Dinosaurs have attracted motorists' attention along interstate 10. The original intent of the giant creatures was to draw customers to a now-closed restaurant, the Wheel Inn. Today there is a small museum, gift shop, and Dinosaurs. Cabazon Dinosaurs 50770 Seminole Drive, Cabazon, CA 92230.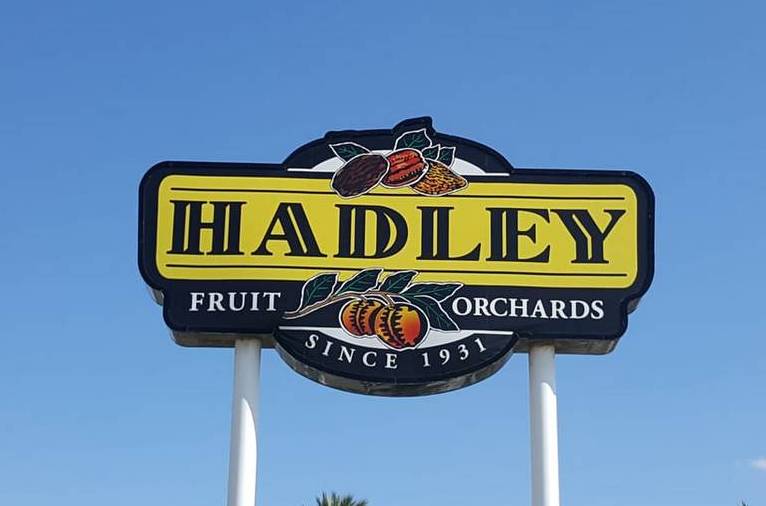 Even though the original building was replaced in 2016, Hadley Fruit Orchards is still a popular roadside attraction. Located in Cabazon near Palm Springs, Hadley Fruit Orchards has been serving tasty date shakes and dried fruit snacks to travelers since 1953 at this location. 47993 Morongo Trail, Cabazon, CA 92230.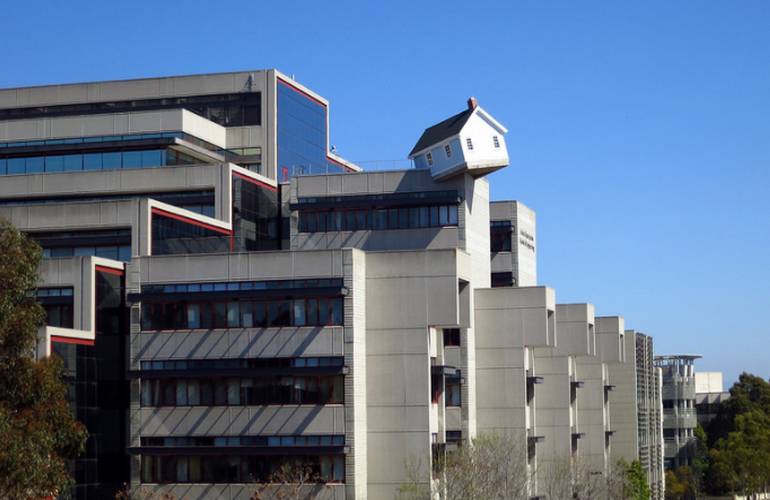 Fallen Star Cottage La Jolla California
The cottage perched on top of a building at the University of San Diego is an artwork by Korean sculptor Do-ho Suh. The little house is furnished and even has artworks on its wall. Visiting hours to see the cottage in the sky are Tuesdays and Thursdays from 11:00 am – 2:00 pm. Fallen Star 9500 Gilman Drive, La Jolla, CA 92093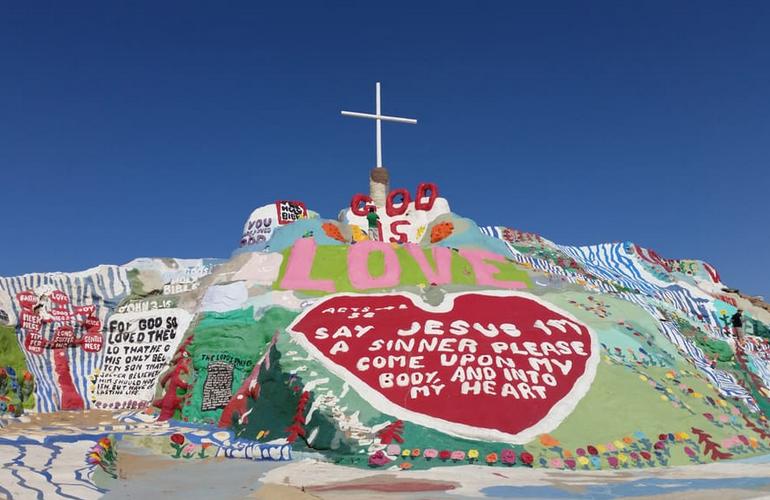 Salvation Mountain is an off-the-beaten-path roadside attraction near the Salton Sea. The mountain is a creation of a single man—Leonard Knight—who failed at an attempt to launch a hot air balloon made from bed sheets with bold letters emblazoned on the side stating, "God is Love" in the 1980s, led to the 26-year construction of his glorious mountain. Salvation Mountain Beal Rd, Niland, CA 92257.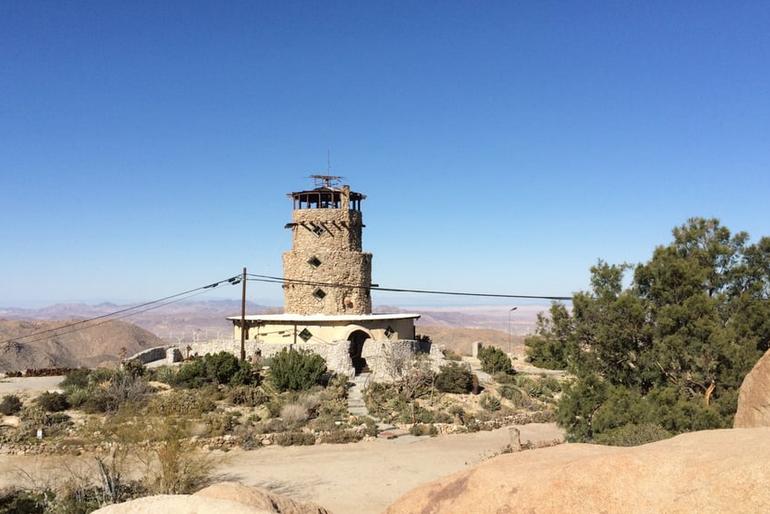 Desert View Tower is a unique roadside attraction along Interstate 8 between San Diego and Imperial County. The tower reminds us of good old-fashioned roadside kitsch and is worth the stop. Adjacent to the tower is Boulder Park, a collection of wind-weathered rocks that form a network of caves and walkways. Desert View Tower is located off of In-Ko-Pah Road, about four miles east of Jacumba.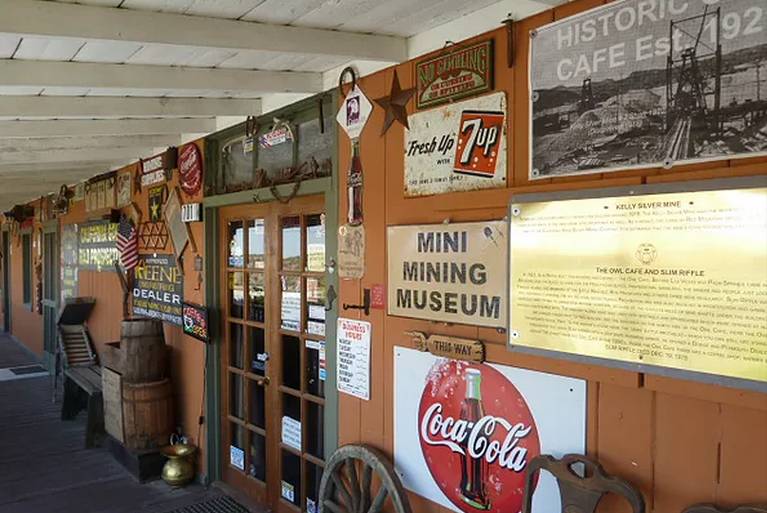 Historic Owl Cafe Red Mountain California
Most travelers along Highway 395 pass through the dusty little town of Red Mountain without realizing what a historical place it is. Red Mountain was once the location of the largest producing silver mine in the United States. During the prohibition years, gambling, alcohol, and a booming red light district attracted a wild crowd of revelers, including Hollywood Celebrities. Today Historic Owl Cafe serves as a museum that features hundreds of photos and artifacts about the cafe and surrounding Randsburg mining district. On your next trip to Eastern High Sierras along Highway 395, take time out to visit Red Mountain and the Historic Owl Cafe. Red Mountain is 3 miles south of Randsburg Road on Highway 395.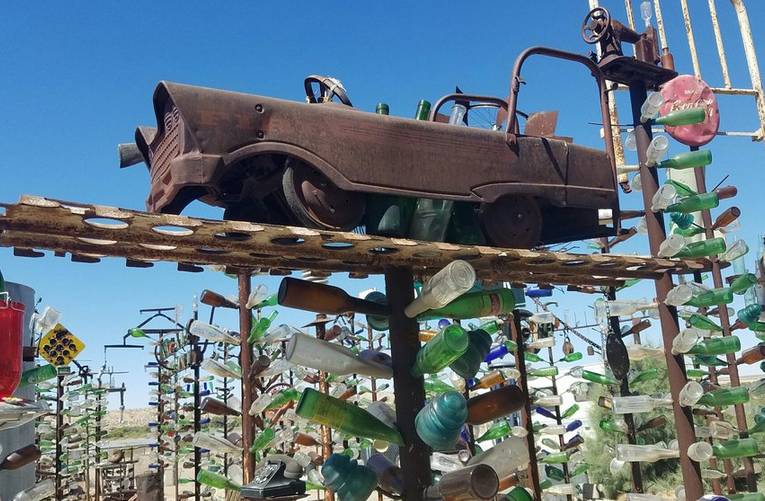 Elmer created his bottle tree masterpiece out of junkyard pieces and hundreds of bottles. The bottle ranch is a must-see as you drive along the National Trails Highway. Be sure to leave Elmer a tip in the mailbox before you continue your road trip. Elmer's Bottle Tree Ranch 24266 National Trails Hwy Oro Grande, CA 92368.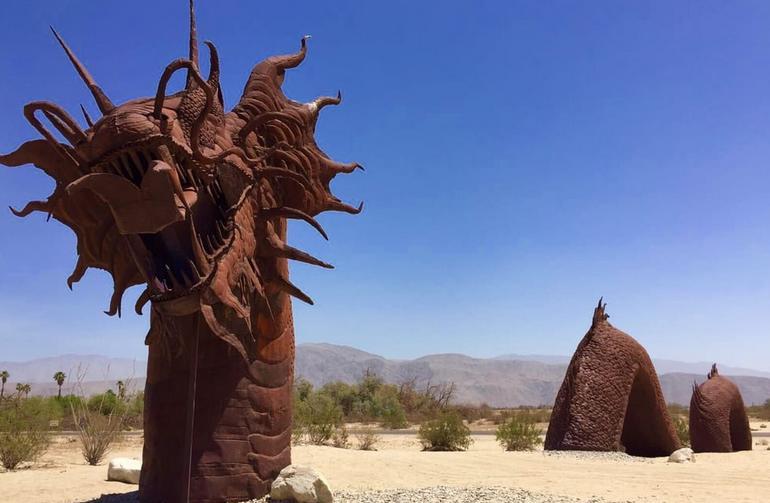 Galleta Meadows Estates is a collection of over 100 welded-steel sculptures. These prehistoric animals, farmworkers, saints, and cactus are the work of Ricardo Breceda. You can see these amazing steel sculptures just outside of the town of Borrego Springs. The majority of the sculptures are located along Borrego Springs road north and south of downtown. Borrego Springs is located 90 miles northeast of San Diego.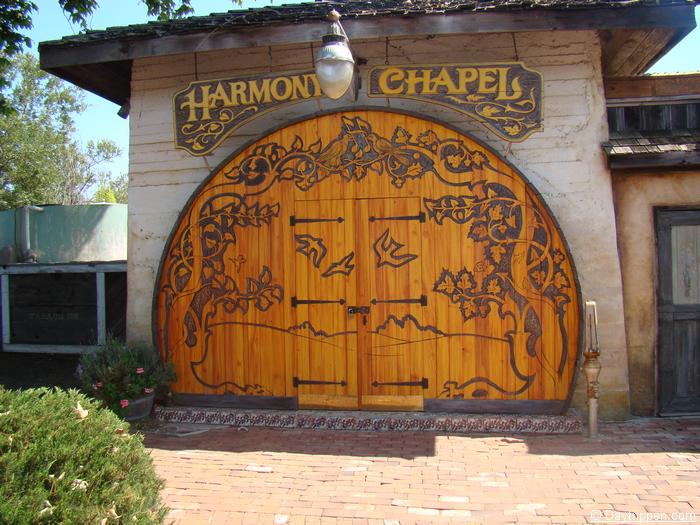 The small central coast town of Harmony was founded in 1869. Local dairy ranches used the creamery to process their products. In 1955 the creamery closed, and most of the town residents moved on. Today Harmony is alive again as a roadside attraction just south of Hearst Castle on Highway 1. Visitors can check out the pottery store, glassworks, get married in the chapel, or taste wine at Harmony Cellars Winery. Harmony California is along Highway 1 between Moro Bay of Hearst Castle.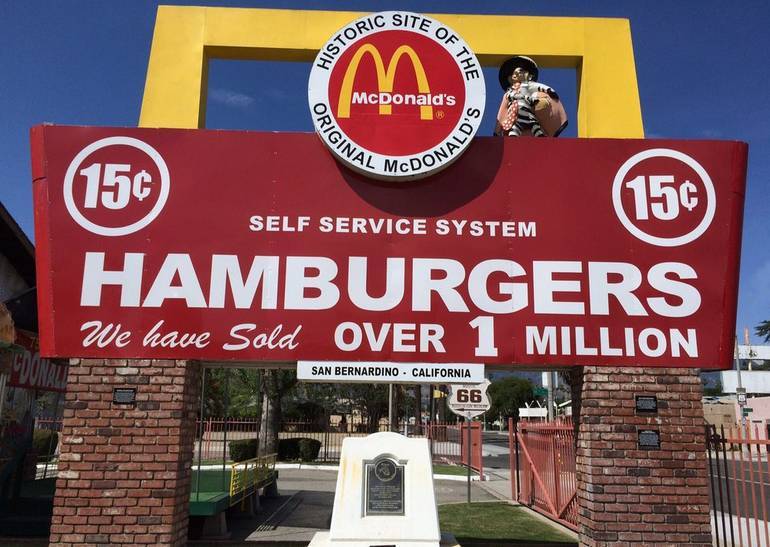 McDonald's Museum San Bernardino
If you ever wondered where the first location of McDonald's was, then you need to stop by this quirky little museum along historic Route 66. The original building was torn down years ago, but the museum stands on the original site. Inside you will find a memorabilia collection, including toys, bags, boxes, and pictures, just about anything to do with McDonald's. No burgers are served here, but admission is free. Address: 1398 N E St, San Bernardino, CA 92405.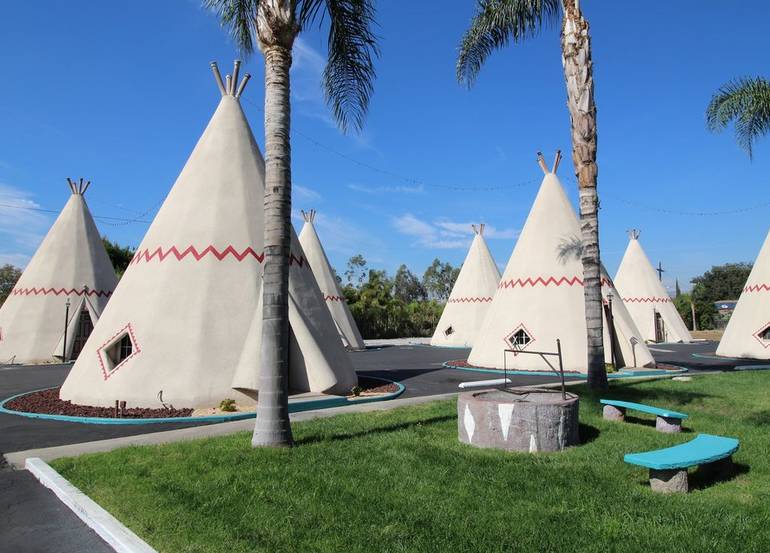 Wigwam Motel  San Bernardino
Located along historic Route 66 in San Bernardino, the Wigwam Motel is one of two remaining Wigwam Villages. Wigwam Motels were built during the 1930s and 40s, and at one time, there were seven villages. Over the years, the village became neglected and could be rented by the hour. A sign in front once said, "Do it in a Tee Pee." Today the motel has been renovated and is listed on the National Register of Historic Places. And, you can no longer rent a room by the hour. Address 2728 E Foothill Blvd Rialto, CA 92376. website.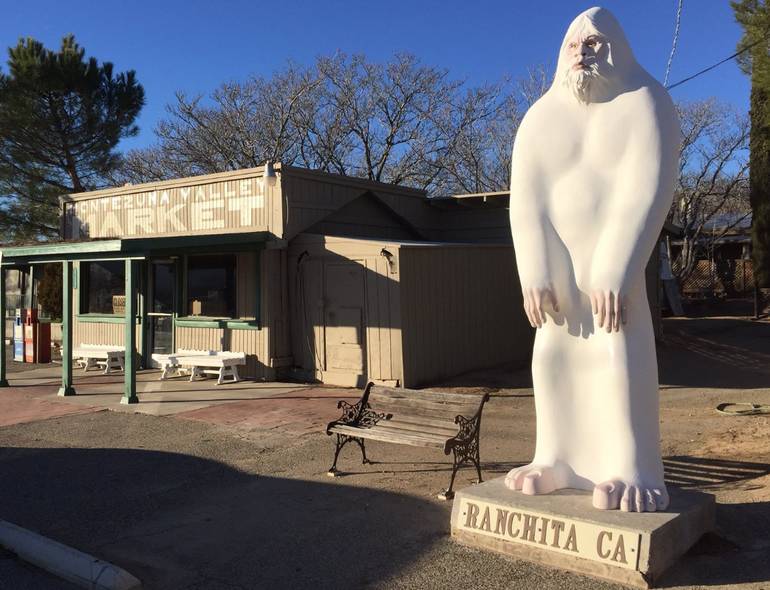 Ranchita Country Store Yeti
If you are heading to Borrego Springs, there is an 11-foot tall snow Yeti statue standing in front of The Montezuma Valley Market in the tiny town of Ranchita, California. Pick up some snacks for your trip and take some photos with the giant yeti—midway between Warner Springs and Borrego Springs along with S22.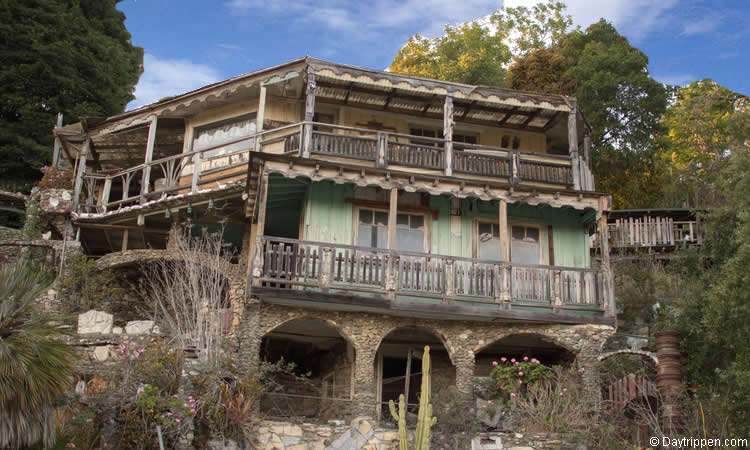 It took him 50 years to build his castle on a hill. With a shovel and a hammer, he chiseled away at the hillside and built himself his own little mansion completely out of other people's trash, salvaged materials, and beachcombed junk. Nitt Witt Ridge 881 Hillcrest Dr, Cambria, CA 93428.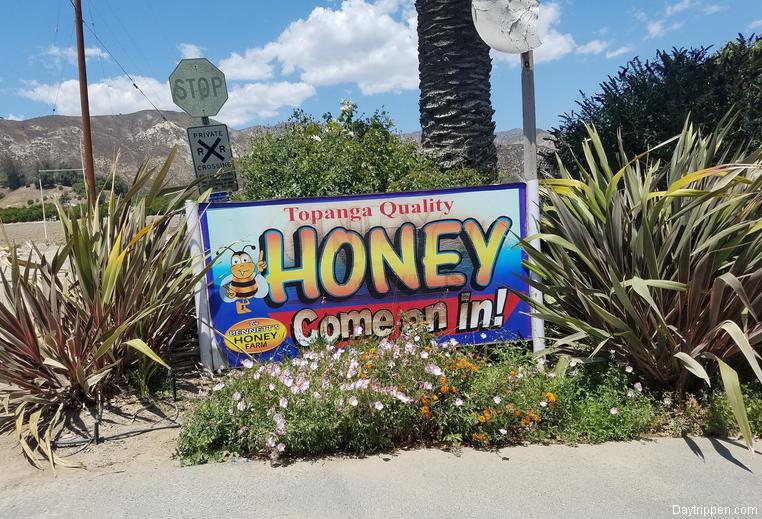 Bennett's sells 100% pure raw honey, along with a large selection of flavored honey. Wildflower, Eucalyptus, Orange Blossom, Blueberry, Clover, Cinnamon, Lemon, Sage, and Hawaiian honey. There are two free honey tasting stations with tiny spoons where you can sample all the different kinds of sweet substances—Bennett's Honey Farm 3176 Honey Ln, Fillmore, CA 93015.
International Banana Museum
The Banana Museum is way off the beaten path for many reasons. Located along Highway 111 adjacent to the Salton Sea, this little museum is defiantly one of a kind. We don't recommend visiting here just to see the museum. But if you are planning a trip to Salvation Mountain, it's definitely a nice little stop. Address: 98775 CA-111, Mecca, CA 92254. Phone: (619) 840-1429. Hours vary.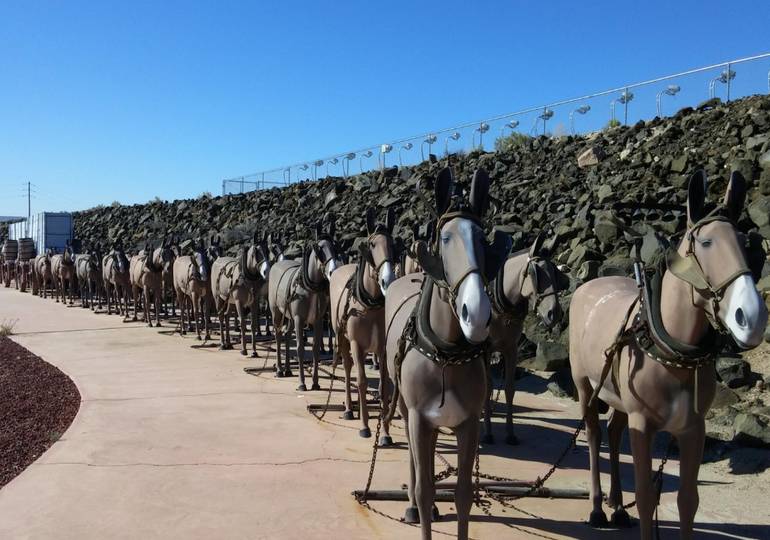 The Borax Visitor Center is an interesting place to visit while traveling between Southern and Northern California along Highway 395. Visitors can see (from a distance) the Rio Tinto Borax processing plant and the largest open-pit mine in California. Inside the visitor center, there is a wealth of information about Borax and its uses.
Northern California Roadside Attractions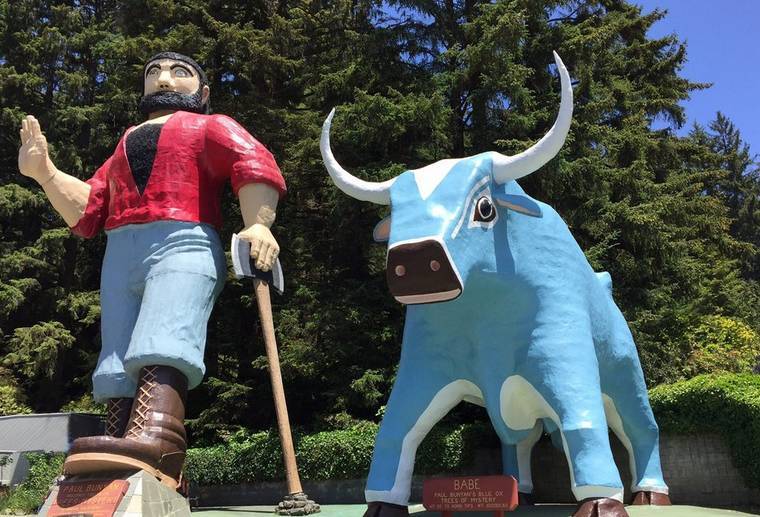 Perhaps one of the last remaining original roadside attractions in California, the Trees of Mystery opened in 1931 and offered a truly unique experience for adults and children of all ages. There is so much to see and do in Northern California, and this wonderful attraction should defiantly be on your to-do list. Trees of Mystery 15500 U.S. 101, Klamath, CA 95548.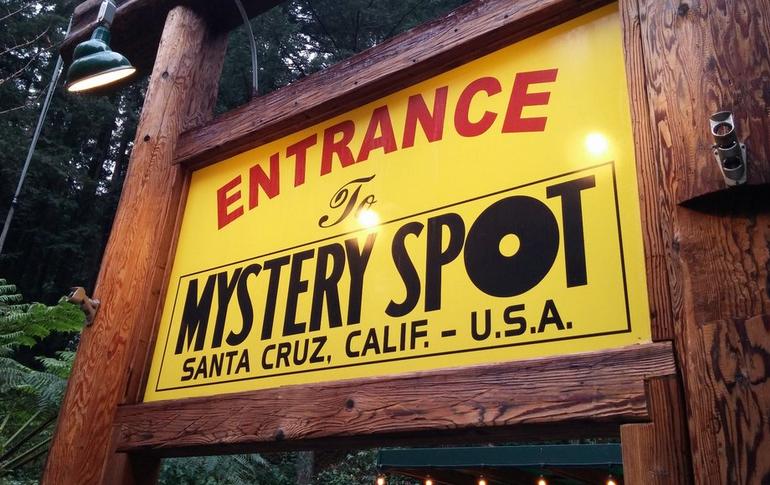 Santa Cruz Mystery Spot Santa Cruz, CA
California roadside attraction since 1940. Located in the redwoods three miles from downtown Santa Cruz, this is a place where the laws of gravity don't seem to apply. You'll see things like water that appears to be flowing upward and balls that roll uphill. Santa Cruz Mystery Spot 465 Mystery Spot Road Santa Cruz, CA 95065.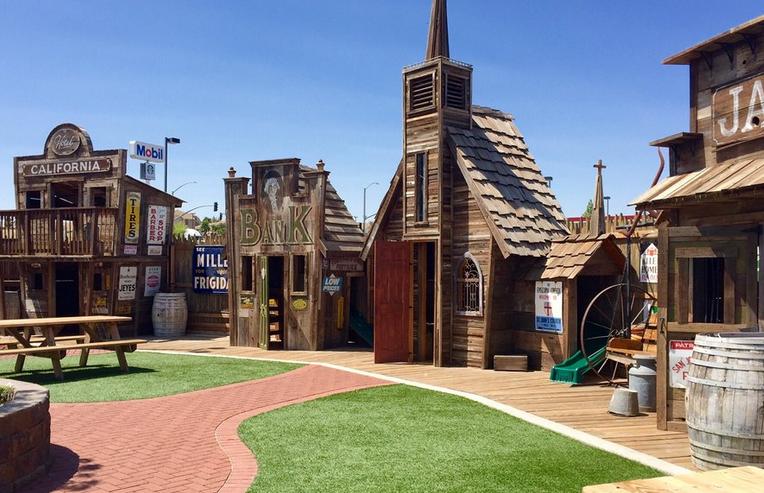 Bravo Farms is a roadside attraction on Highway 99 Tulare and Fresno. The Kettleman City location is the largest of the four Bravo Farms stores. The theme here is the wild west, complete with a ghost town, restaurant, huge farm store; there is even an area for dogs to play. Bravo Farms 33341 Bernard Drive Kettleman City, CA 93239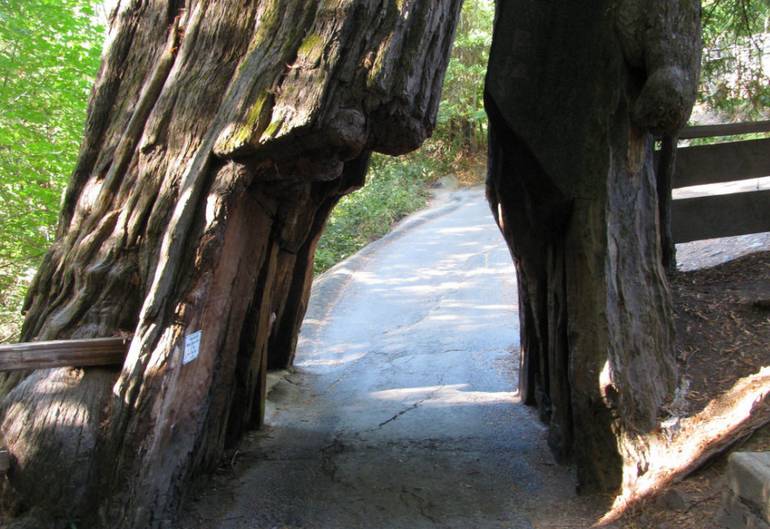 Shrine Drive-Thru Tree is a roadside attraction along the famed Avenue of the Giants. There is a small fee to drive through the tree, along with some interesting treehouses carved out of redwood tree stumps. There is also a gift shop with souvenirs. Only small cars can make it through the tree. Shrine Drive-Thru Tree 13708 Avenue of the Giants, Myers Flat, CA 95554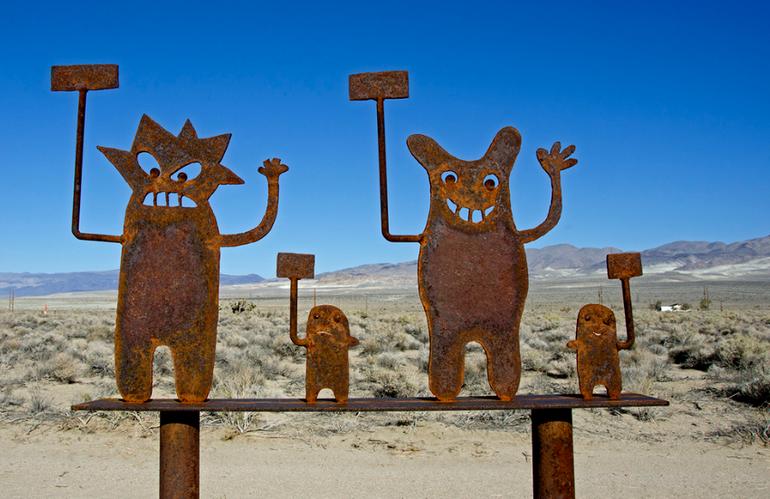 Olancha Sculpture Gardens Olancha California
There are about 20 sculptures scattered across the desert floor—just a few of Jael Hoffmann's artworks on display for public viewing. The sculptures are located on the west side of US 395 if you are traveling from Southern California. 1.5 miles south of the intersection of Highway 395 and 190. Turn left on Walker Creek Road, right on Old State Highway.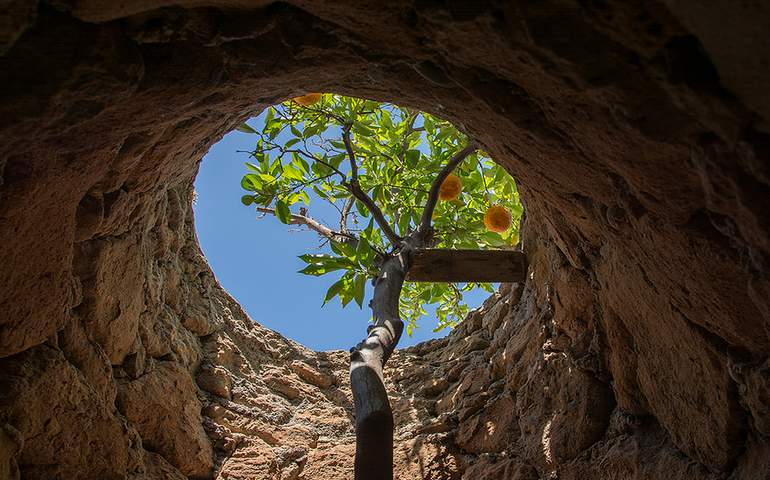 Seeing is believing, and visitors to Forestiere Underground Gardens will be totally amazed at this wonder of the world, built entirely underground. The gardens were largely done with hand pick, shovel, and wheelbarrow, the creativity in engineering, architecture, masonry, and landscaping is stunning—Forestiere Underground Gardens 5021 W. Shaw Ave. in Fresno.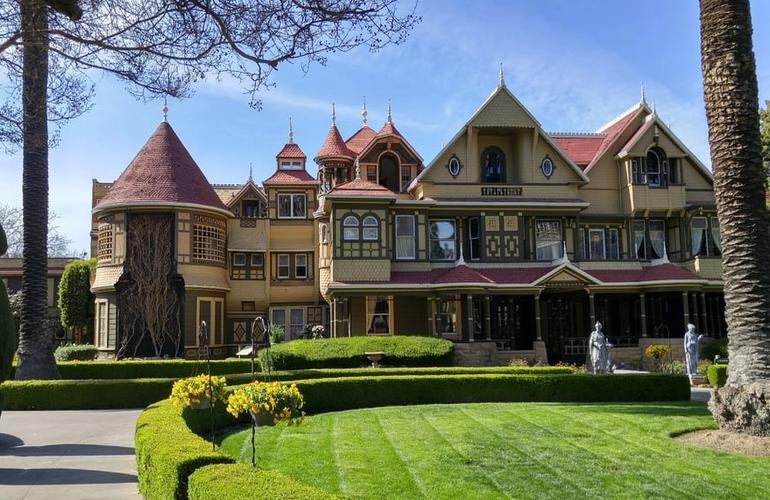 According to popular belief, Winchester thought the house was haunted by the ghosts of the people who fell victim to Winchester rifles and that only continuous construction would appease them. The home has many bizarre adornments that Mrs. Winchester believed contributed to its architectural beauty. Many of the stained glass windows were created by the Tiffany company. Winchester Mystery House 525 South Winchester Boulevard, San Jose, CA 95128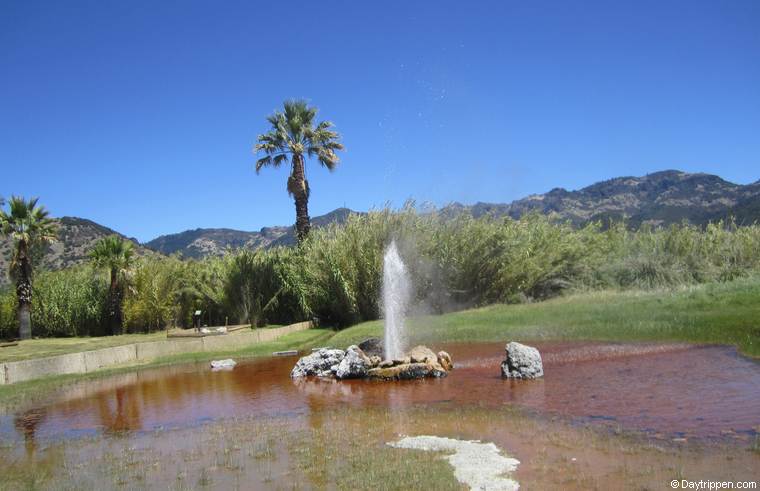 Old Faithful Geyser of California is located in the upper Napa Valley near the town of Calistoga. Napa Valley's geyser is only one of three "old faithful's" in the world. Along with the geyser, there is the small herd of fainting goats, a breed that faints when startled. With so many visitors, the goats have become used to noise and are not easily scared. Old Faithful Geyser 1299 Tubbs Lane, Calistoga, CA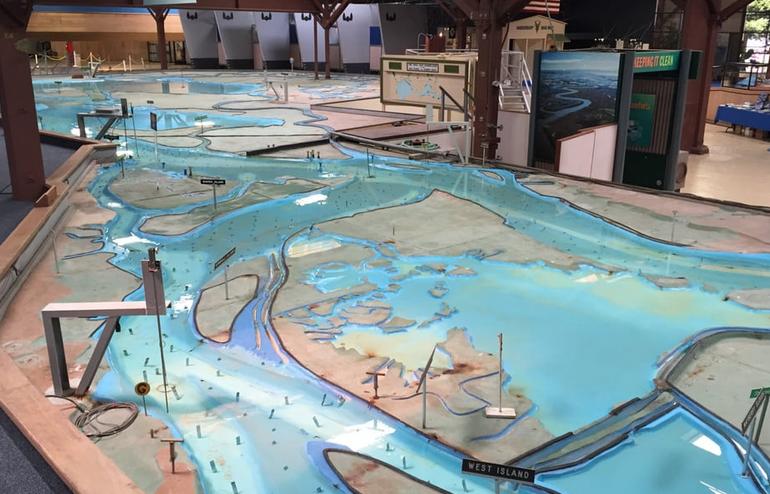 San Francisco Bay Model Sausalito California
While not intended as a roadside attraction, the San Francisco Bay Model could certainly be one. Built-in 1957, this huge 320 x 400 foot model of the San Francisco Bay was used by the U.S. Army Corps of Engineers to study water flows in and around the bay. The model is still operational but no longer used.  You can visit the bay model Tuesday-Saturday: 9 am-4 pm. Admission is free. Bay Model Visitor Center at 2100 Bridgeway Blvd. Sausalito, California.