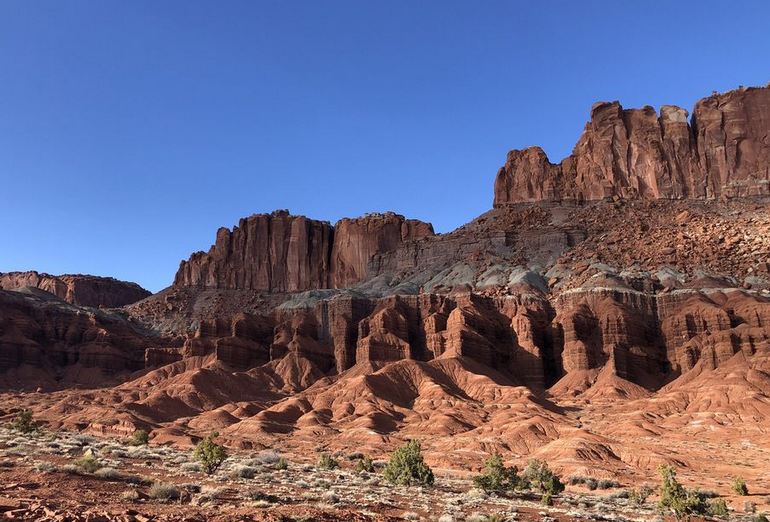 Located in Wayne County in south-central Utah, Capitol Reef National Park covers nearly 250,000 acres of geological structures, including cliffs, canyons, domes, and arches of red rock. The broad, sweeping vistas of desert rock make this park one of Utah's most visited. Many visitors compare Capitol Reef to what earth might have appeared like hundreds and thousands of years ago.
Originally named 'Wayne Wonderland' after its location in Wayne County, the park was opened to the public in 1950. One of the park's main attractions is the Waterpocket Fold, a geological formation resembling a rocky spine that extends from Thousand Lake Mountain to Lake Powell. Its present name is after the many white Navajo sandstone domes resemble the Capitol Building in Washington, D.C.
Things to do Capitol Reef National Park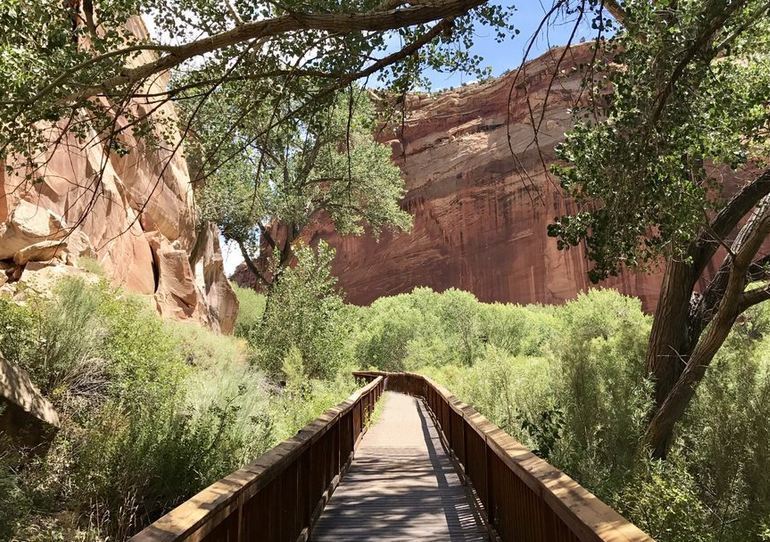 Hiking Capitol Reef National Park
Hiking and backpacking are perhaps the best ways to explore this stunning National Park. Head to the Fruita Area, where there are fifteen day hiking trails that vary in difficulty. Hiking is an exhilarating activity, from easy walks over smooth surfaces to steep climbs over the uneven ground near cliff edges.
Catch bird's eye views of the stunning landscape from the top of cliffs, under arches, and narrow gorges. All the trails are well marked with signs along the way. Self-guiding brochures are available at the Visitor Center. If you enjoy remote backpacking, there are many routes available to explore remote areas. Try the Upper and Lower Muley Twist Canyons and Halls Creek for good backpacking hikes.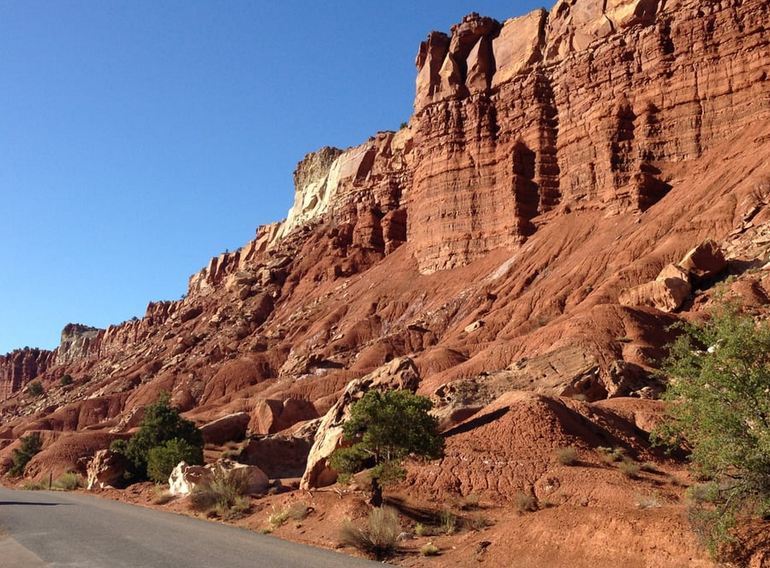 Driving Tours
If hiking the park is too strenuous, opt for a driving tour through the park to explore it in its entirety. There are 3 popular routes for driving tours at the Capitol Reef National Park. Try the Scenic Drive that starts at the Visitor Center and takes you to Grand Wash Road, Capitol Gorge Road, Pleasant Creek Road, and South Draw Road, covering a total of nearly 8 miles. The other two popular driving tour routes are through the Cathedral and Waterpocket areas.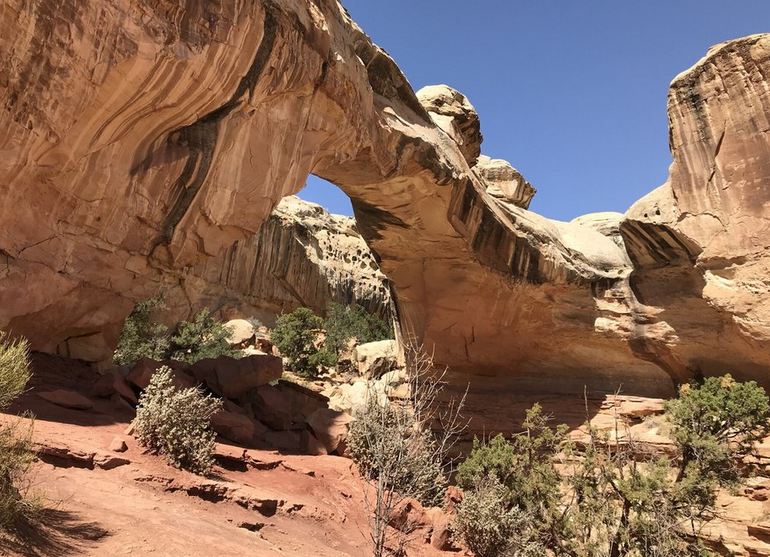 A Rock Climber's Oasis
If you enjoy rock climbing, then Capitol Reef National Park is ideal for you. While most of the rock is predominantly sandstone, minimum impact techniques are practiced in this park, making it a clean climbing area. The most popular area for rock climbing is the Wingate cliff walls, owing to many crack systems created by natural fracturing. The rock surface is very hard as well, making it ideal for climbers.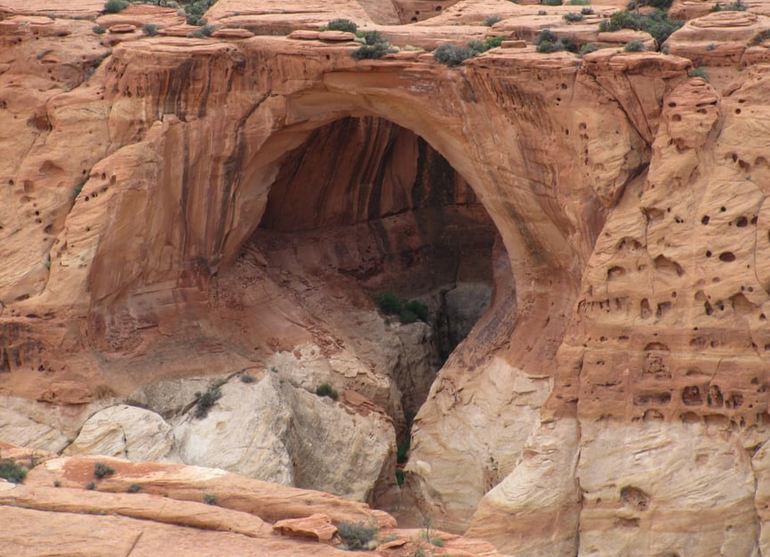 Ranger Programs
Through the busy months, several interpretive programs are conducted daily at the park. You can sign up for a Geology Talk to understand the geologic story of Capitol Reef; to understand cultural aspects of the land, sign up for the Fremont Culture Talk. Join a guided hike or tour the night sky by participating in a Star talk. Full Moonwalks are popular too. For nature buffs, join the Nature Talk that helps you discover the nature of Capitol Reef.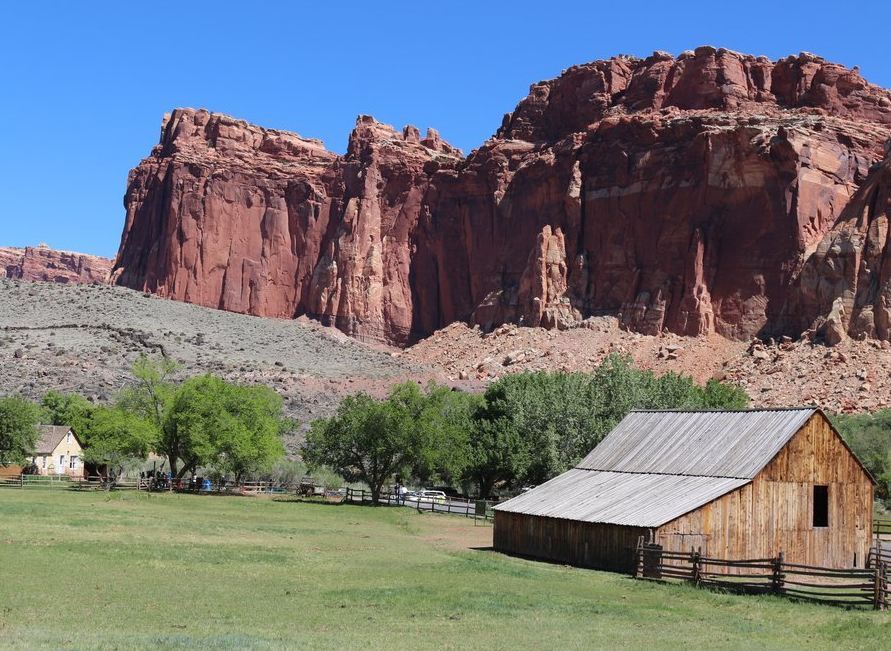 Kids Activities
There is plenty to do for kids visiting the park with their families. Many short trails are ideal for kids to enjoy in the park. Stop by at the Ripple Rock Nature Center located on Scenic Drive near the Visitor Center. There are lots of free activities for kids of all ages. Sign up for the Junior Ranger Program or the Junior Geologist Program, where kids get to discover the geology, the formation of the Waterpocket Fold, effects of erosions, and colorful rock layers. And every completed activity earns them a certificate and a patch!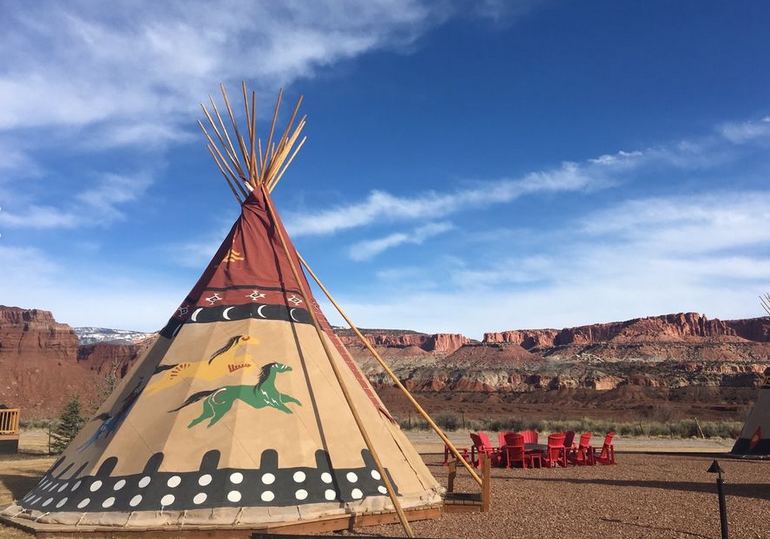 Capitol Reef Resort
If you feel like sleeping in a Teepee, Conestoga Wagon, cabin, or want a hotel room with a balcony, Capitol Reef Resort has you covered. The resort features nine teepees and eighteen covered wagons situated around cozy fire rings. Restroom facilities for the wagons and teepees are in a separate building. However, they do have a flat-screen TV and king-size beds. For adventure seekers, the resort offers Lamma day and overnight hikes. You do the hiking, and the Lamma carries the equipment. Capitol Reef Resort website.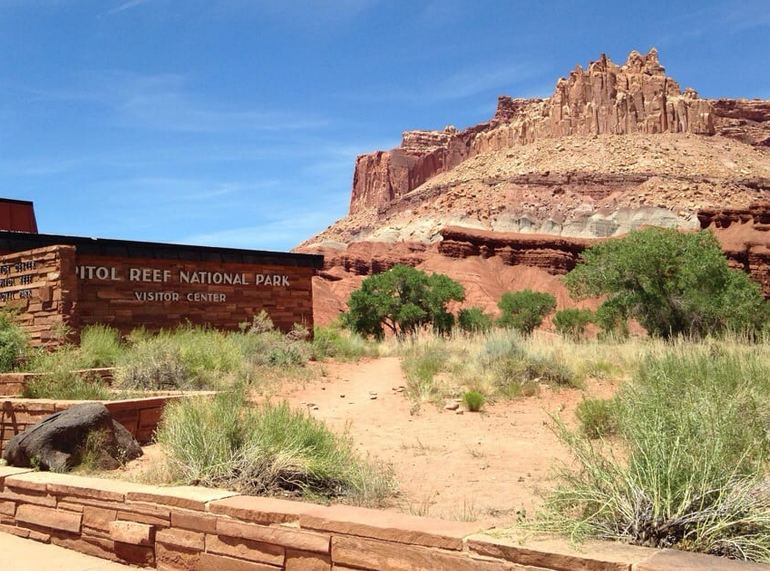 Getting To Capitol Reef National Park
The park's visitor center is located at UT-24, Torrey, Utah, and is open 8:00 a.m. to 4:30 p.m. 220 miles South of Salt Lake or 330 miles Northeast of Las Vegas, Nevada. Current information/ road conditions.