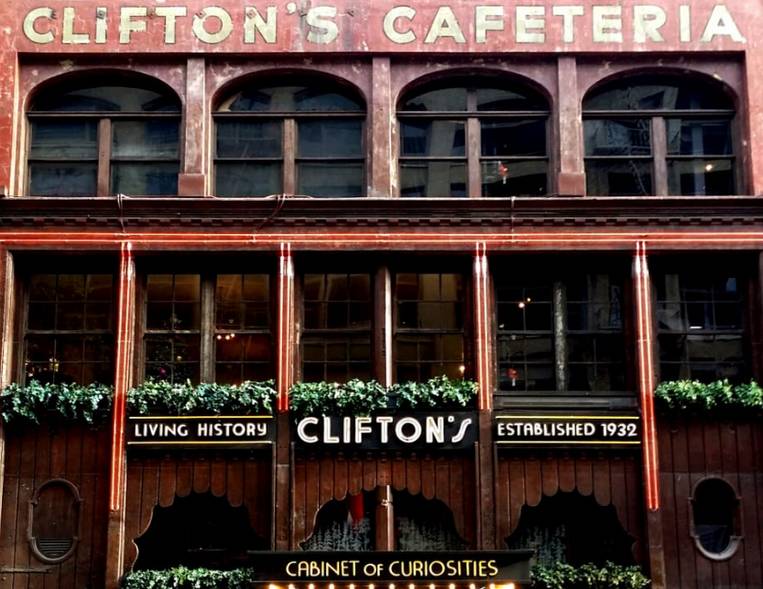 If you're looking to experience the Golden Age of Hollywood combined with all the excitement of Downtown LA's nightlife, Clifton's is the place for you.  With five unique spaces, Clifton's truly has something for everyone.
From a 50's-era cafeteria to a stunning watering hole under the branches of redwood trees to a tiki bar that's so well curated you will feel like you're on a Hawaiian vacation, you'll be sure to find something everyone in the group can agree on.
Clifton's is located in the heart of downtown Los Angeles, making it an easy place to stop before or after any events or activities you may be attending. But Clifton's is also exciting enough to be a one-stop-shop; you can easily spend the entire evening here and never get bored. This is due largely to the truly masterfully curated spaces of each of the restaurants and bars in the building.
Pacific Seas Tiki Room
Let's start upstairs at "Pacific Seas." The top-level of Clifton's is home to the entertaining "Pacific Seas" bar. Stepping into this space transports you to a bygone era of tropical tiki vacations that were so popular during the '50s and '60s in America.
The drinks are generous and quite delicious because they use only the freshest fruit. Tiki huts with palm-frond roofs and a fully restored vintage speedboat are among the seating choices in the main bar area, but be sure to take a turn around the whole floor and see all the nooks and crannies that boast incredible attention to detail.
Clifton's Gothic Bar
Next, we come to the "Gothic Bar." But don't worry, no vampires here! The term "gothic" actually refers to the "cathedral" of redwood trees- yes, full-sized floor-to-ceiling redwood trees!- that are placed in the middle of Clifton's. Small nods to the term 'gothic' are peppered throughout the space; dark carved wood Victorian-era chairs, iron candelabras, and stunning carved wooden bars worthy of a European castle.
The libations in this section air on the side of traditional, prohibition-era cocktails. Clifton's, in general, is known for their attention to detail in mixology, so it's well worth the extra dough you spend on one of their house special creations.
Brookdale Ball Room
On the same level as the gothic bar is a more private event space called the "Brookdale." Do take a gander at the giant stuffed lion in the back! This is where science fiction was born; guests like Ron L. Hubbard of Scientology fame and famous author Ray Bradbury used to frequent this place every week. Take in the history as you take in the sights!
The Monarch
Next, we have "The Monarch," a space that truly embodies the classic feeling of Hollywood's golden-era California. With an art deco soda fountain, taxidermy deer, and other native wildlife, as well as the majestic cathedral of Redwoods, you'll be completely taken in by the grandeur that surrounds you.
Clifton's Marketplace
Finally, we come to the marketplace. The marketplace at Clifton's is a truly unique experience that transports you back to Hollywood's Golden Age. And yes, it IS actually a cafeteria! But don't worry, it's nothing like middle school. While the fare is actually quite good, eating at Clifton's Cafeteria is more about the experience than the food. It's not fine dining, so if you're seeking a foodie haunt, it best to stick to drinks at Clifton's.
If you are looking to experience a specific space at Clifton's, it's always recommended that you call ahead to make sure the space will be open. It's a popular event hosting spot for everything from corporate events to bar mitzvahs, and you don't want to be disappointed not to see the place you were hoping for. Clifton's Address 648 S. Broadway Los Angeles CA 90014.  website. Phone 213 627 1673.