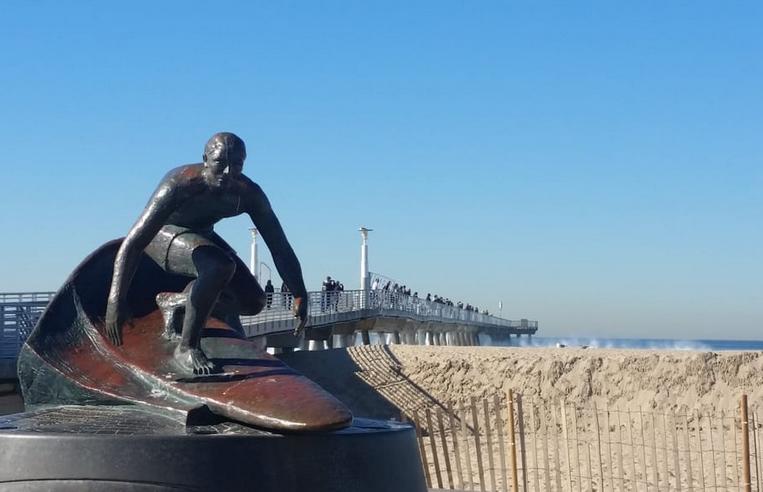 If you're looking for a more than typical summertime Southern California beach experience, than Hermosa Beach is the perfect day trip.
With its laid-back attitude, athleticism, and festive nightlife, this small beach community of just 1.3 square miles is a unique blend of all the southern California beach cities, all rolled into one.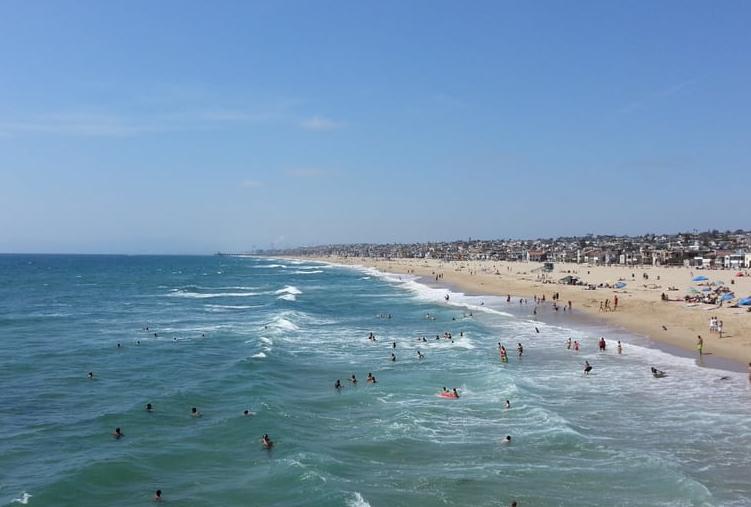 During one of its many warm sunny days, locals and tourists can be found playing volleyball on the beach, or jogging, cycling and rollerblading along a smoothed-paved path known as The Strand, which runs along Hermosa's wide sandy shorelines, connecting it with the neighboring beach towns.
At night, an area known as Pier Plaza at the foot of the Pacific Ocean, comes to life, with people both young and old, packing the bars and restaurants, while the patios and decks of nearby beach shanty's hum with the sights and sounds of private parties.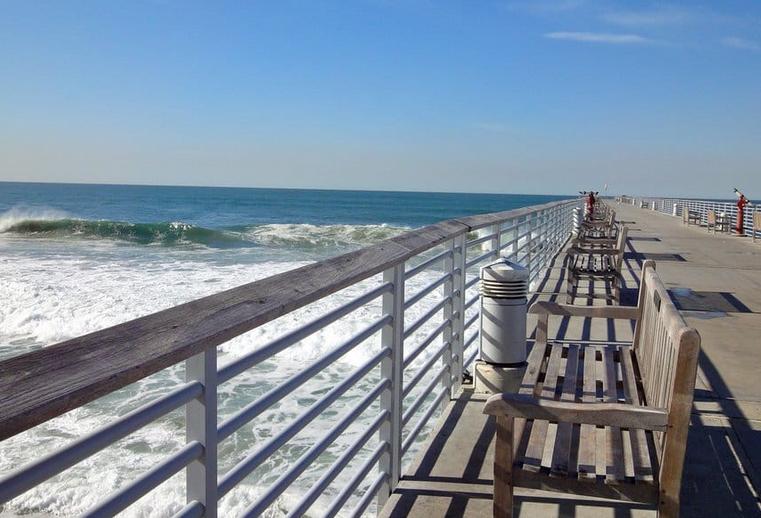 Hermosa Beach Pier
Adjacent to Pier Plaza is the centerpiece of it all, the Hermosa Beach Pier. This lively pier offers year-round fishing and is home to the surfer's Walk of Fame at the start of the Pier that ends with a statue dedicated to Hermosa's role in pioneering surfing in southern California.
Each year, local surfers are inducted and are acknowledged by the placement of their name engraved on bronze plaques embedded in the 1,000-foot concrete structure.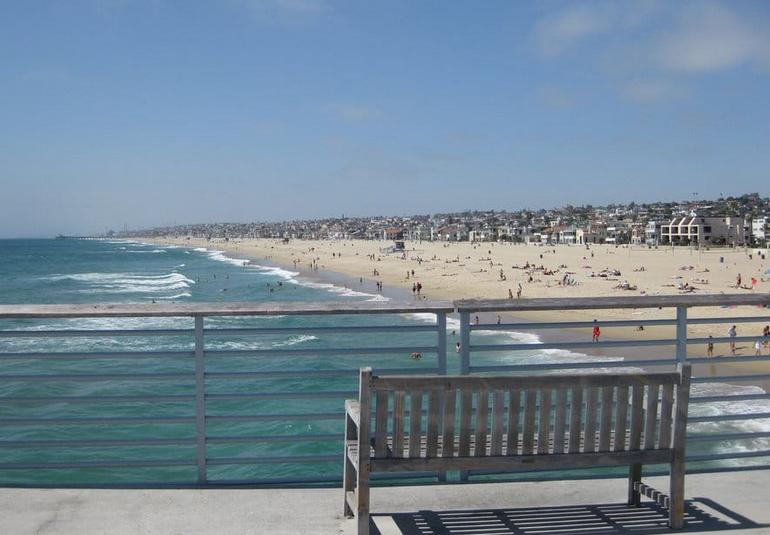 The pier is also a great spot for watching surfers, as well as the paddleboard races in the summer, and has several small tiled pavilions at intervals along the sides that offer a shady spot for viewing, fishing, or seaside picnics.
The beach is clean and for most of the year is serene, but can get crowded a few times annually, when it becomes the site of both beach volleyball's Hermosa Beach Open, and surfing's International Surf Festival, both at the end of August.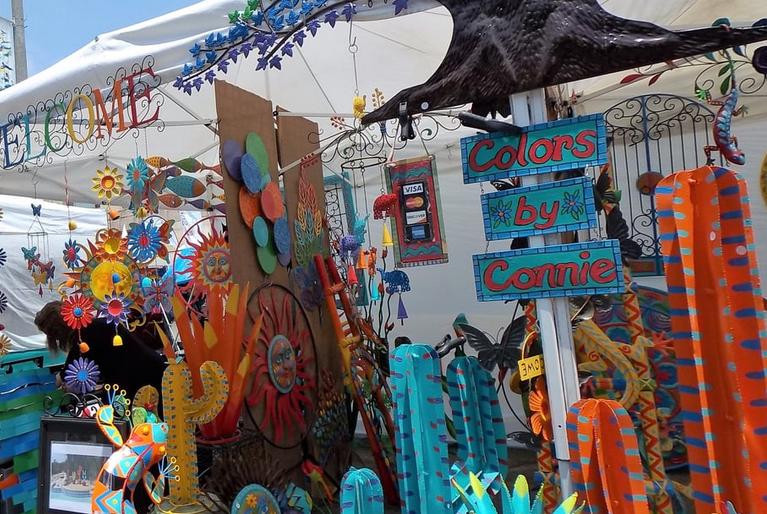 Fiesta Hermosa
Hermosa also experiences jam-packed crowds during the three-day weekends of Memorial Day and Labor Day, as the city hosts the annual Fiesta Hermosa street fair, featuring hundreds of crafter's, artists, live bands and street food concessionaires.
Hermosa Beach Dining
Also, Hermosa Beach is also well known for its many appetizing and diverse restaurants and is a great place to pub-crawl.
Some of the most well-known establishments that are favored among locals and tourists are Big Mikes Philly Steaks and Subs, Patrick Malloy's, and the Mermaid.
With its energetic outdoor patio and measureless seafood selection, it provides diners an affordable meal served with old Hermosa Beach flair.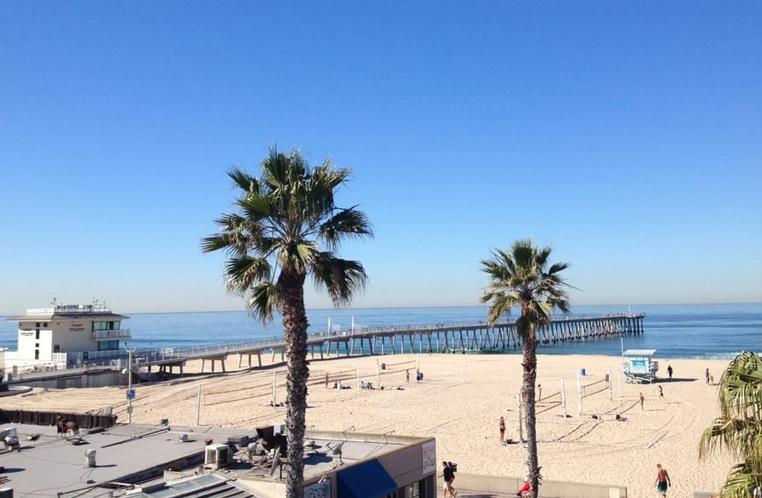 Hermosa Entertainment
Finally, for entertainment, the Comedy and Magic Club is home to some of the best comedians in the world. It has been a mainstay on the comedy circuit for decades.
For a more refined night out, the Hermosa Beach Playhouse, a division of the Civic Light Opera of the South Bay Cities is renowned for its intimate setting and inspiring plays and musicals.
When staying in the area, there are plenty of reasonably priced accommodations like the Hotel Hermosa or one of the area's campgrounds, such as the one at nearby Dockweiler State Beach to the north.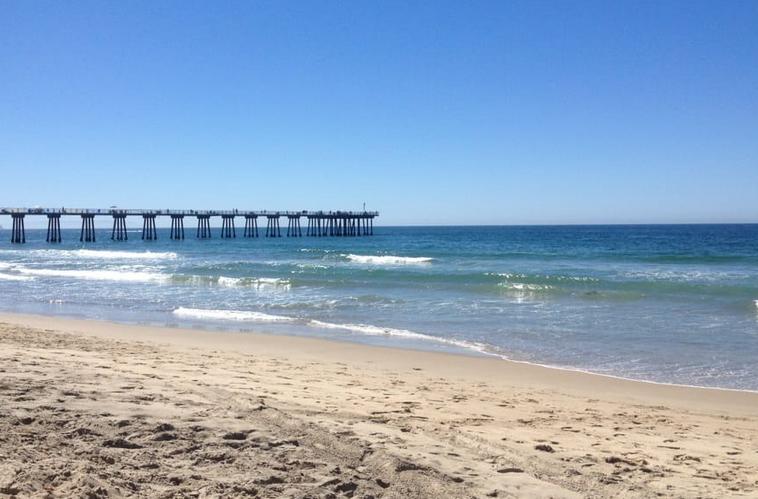 Getting to Hermosa Beach
Hermosa Beach is an easy drive from anywhere in Los Angeles. Expect the short 30-40-minute drive from downtown and about an hour from Orange County. Next time you are looking for a weekend getaway, explore Hermosa Beach.