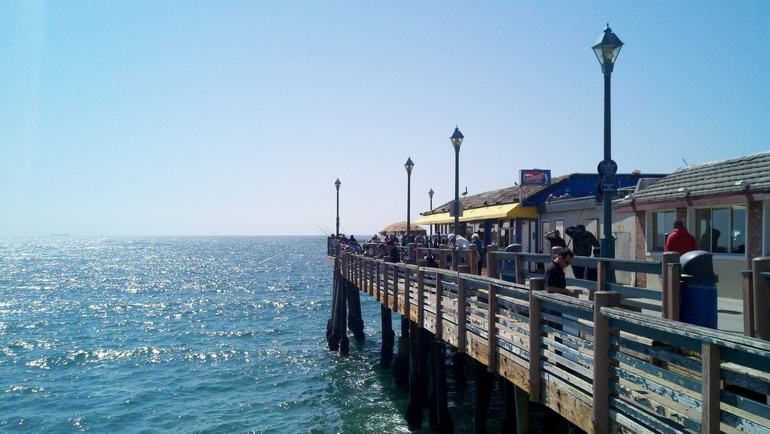 Redondo Beach Pier was originally built to facilitate timber delivery from ships to trains in 1889, the Redondo Beach pier has undergone six transformations, surviving a series of storms, fires, and demolitions throughout the 20th century on the way to its current design — a large horseshoe shape structure that has been given the name – the "endless" pier.
In recent years the pier has gained notoriety as a location that has been used countless times on the hit television show, "The O.C.", and is easily distinguished by its design of sails along on the pier that resembles the opera house in Sydney, Australia.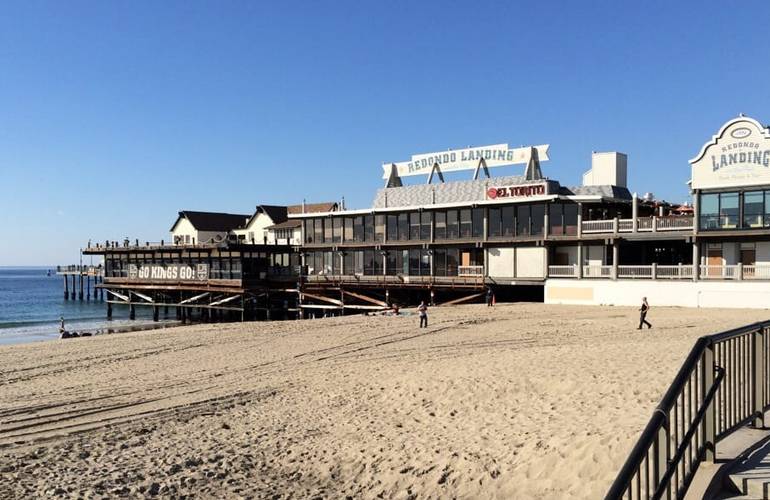 With the exception of a modest parking fee, the pier is free and is packed with a variety of family-friendly ocean-oriented activities from sports fishing and harbor cruises to penny arcades, glass-bottom boat tours, and the seasonal whale watching excursions.
There are over 50 dining, entertainment, and shopping choices to accommodate all budgets, and all are within walking distance to beautiful nearby accommodations.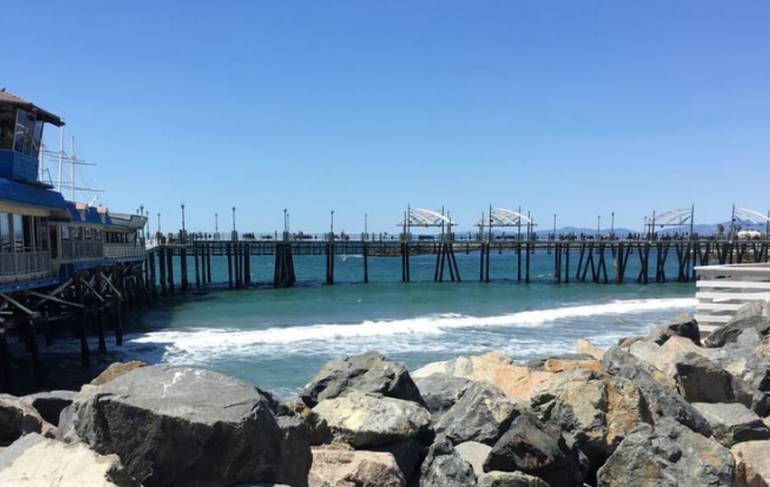 A short walk to the north of the pier brings you to Seaside Lagoon and Veterans Park. A saltwater lagoon offers swimming, a large sand area for sunbathing, children's play equipment, volleyball courts, a snack bar, and a grassed area and luau shelter where you can picnic and enjoy ocean views.
The boardwalk section of the pier is located on the lower level and is a unique blend of quirky little shops including one that will let you take a peek at a 16-and-a-half-foot long great white shark for a dollar. Alongside are open-air eateries where a variety of fresh seafood can be purchased, steamed right on the spot, and enjoyed.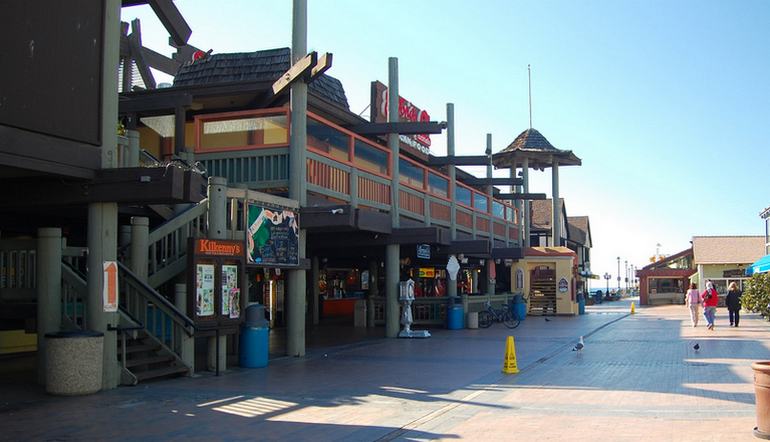 The main attraction for families on the boardwalk is the Redondo Fun Factory, a 1920s boardwalk-style amusement center and penny arcade that has over 300 games, a Tilt-A-Whirl, ad numerous kiddy rides. As you casually walk along taking in the fresh ocean breeze, it's not uncommon to catch a man who plays guitar and sings sea shanties as well as other interesting street performers along the way.
The pier transforms from the seaside playground into a twilight paradise starting each evening with a spectacular sunset over the Pacific. You'll want to start your evening with some delectable dining, and there are two places that are tops on the list.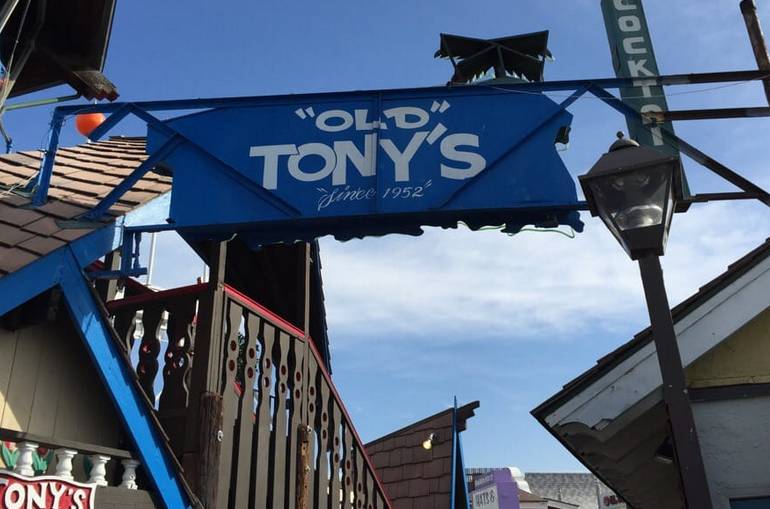 Old Tony's on the Pier Redondo Beach
Old Tony's on the Pier is a great place to dine with family, friends, or that special someone. Opened in 1952 by Tony Trutanich the restaurant is the oldest on the pier and still one of the best places to find the "freshest catch of the day." The signature entrée is the linguini with huge chunks of lobster — or scallops upon request.
Above the restaurant is Top o' Tony's Bar, which has a view from Palos Verdes to Santa Monica. Many famous people who have visited Tony's grace the walls of the spiral staircase leading up to the bar.
Kincaid's Fish Chop & Steak House
Another favorite that never fails to please the palate is Kincaid's Fish Chop & Steak House. Their menu is always evolving with fabulous new pieces alongside the stable favorites of king crab, sea bass, salmon, prime rib, and filet mignon. A must-try is the Kobe meatloaf sliders on a soft Hawaiian roll.
For after-dinner entertainment, there's Brixton's South Bay, a small underground venue that seats around 450 with live shows by fresh local bands as well as nostalgic artists from the 60s, 70s, and 80s.
But if a more laid-back atmosphere is what you're looking for than head over to the Starboard Attitude, the oldest "live blues club" in the South Bay. You can pull up a seat, sip on your favorite cocktail, relax & and enjoy a show, best of all there is no cover charge.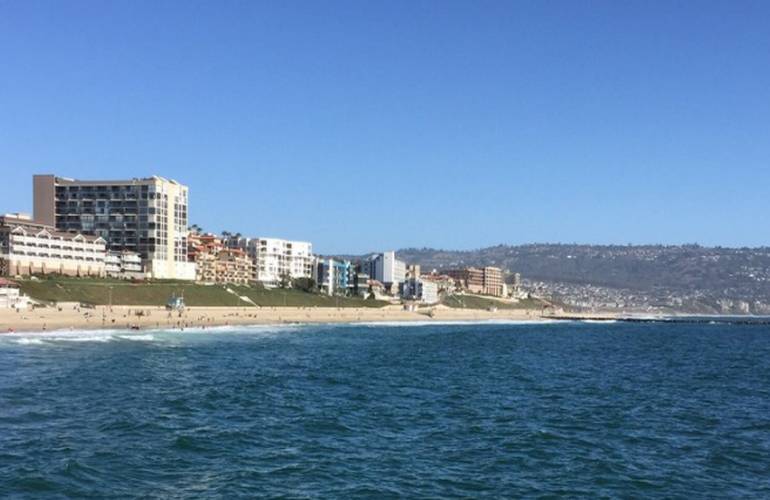 Finally, if a romantic interlude is what you're searching for to cap of your day, then take your sweetie on a cruise aboard an authentic Venetian gondola, adorned with flowers, and stocked with a basket of fresh fruit, bread, cheese, and wine glasses. All you need to do is bring your favorite Vino. You can bring your own music, too, or they can provide it.
Open every Thursday from 8:00 a.m. to 1:00 pm is the Redondo Farmers Market at Veterans Park. A favorite of Redondo locals, you will find a wide assortment of fresh fruits, vegetables, cut flowers, and more.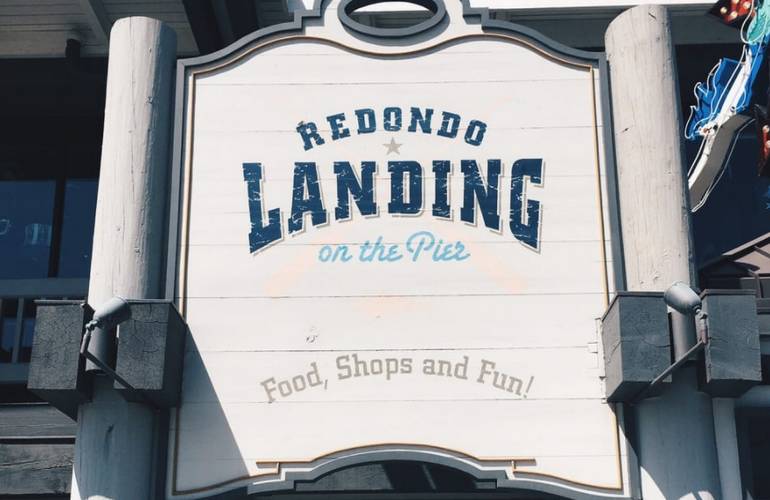 There is plenty of parking at the pier and you can get an hour free with validation from various merchants during the weekdays 11 am-7 pm