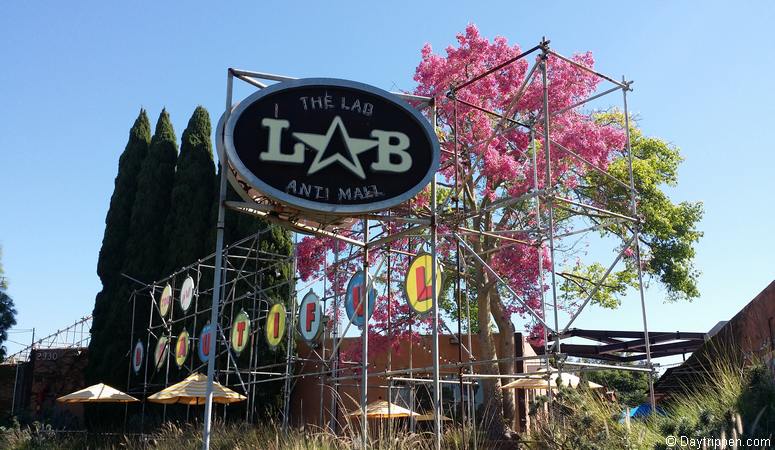 Established in 1993, the founders of the LAB LAB Anti Mall set out to create a space where small local businesses could come together to offer their goods and services. A place where shoppers could meet the people responsible for producing the items that were purchased.
You might assume that this unique undertaking was the reason LAB was included in the name of the new venture. LAB stands for Little American Business.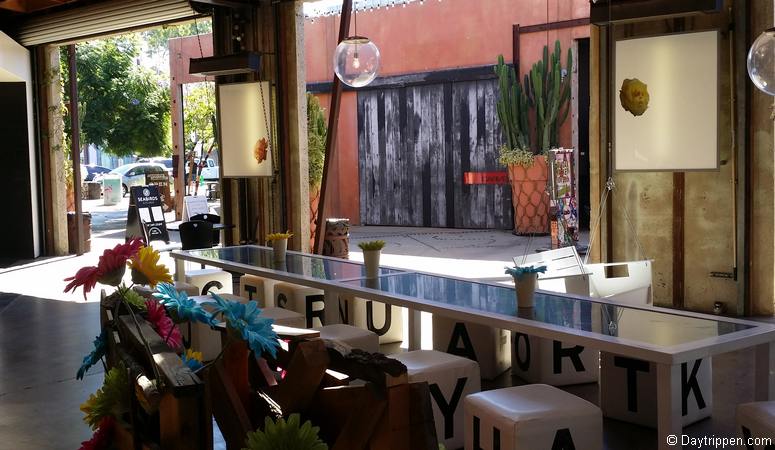 And that's what draws thousands of California shoppers away from the standard, soulless, same old same old shopping malls to the Antimall. The environment here is the polar opposite of what we have come to expect when we head off to buy a new outfit or lunch with a friend.
At the LAB Anti-Mall, there are neither big box stores nor remote, robotic, computerized cash out systems. There is not a golden arch insight, and indeed no jack in the box.
Instead, visitors wander indoors and out, exploring art installations, vintage clothing shops, artisan bakers, and owner-operated beauty salons. Whether your style is a classic, cutting-edge, or merely comfortable, you'll find something at the Antimall you just can't live without.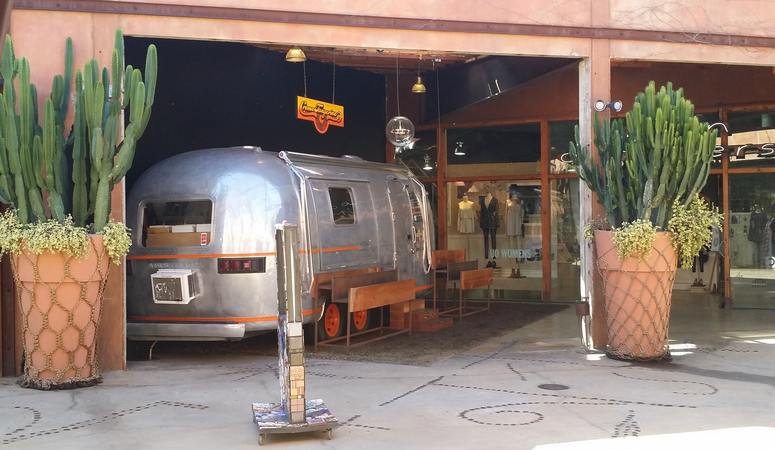 It could be something old, something new, something second hand or something blue.  A blue Airstream trailer is parked outside the Antimall, near the eclectic Urban Outfitters shop.
The Airstream is home to Crème Tangerine. It's not a café, nor a candy store, as the name might suggest. It is, in fact, a record store. Remember them? Those funny, flat, black, circles that somehow made music?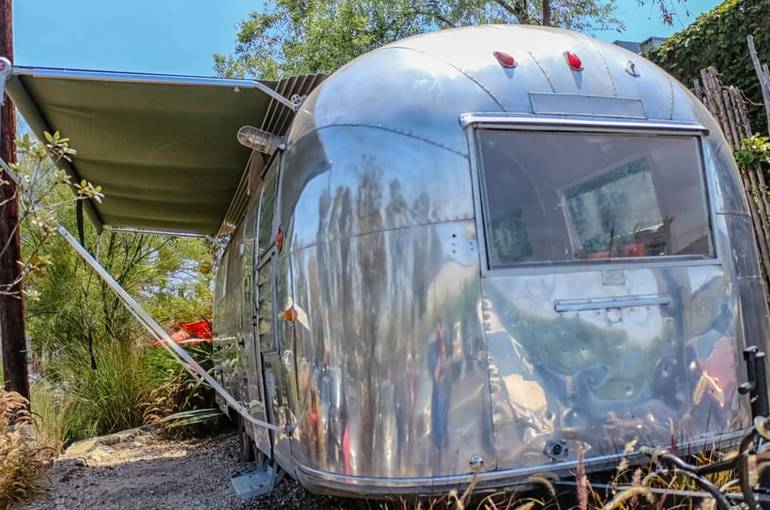 The boys at Crème have kept all the vinyl legends alive in their corner of this fascinating LAB experiment to support the Little American Business.
The Eye Society has a somewhat similar "vision." Seeing the modern eyeglass market as a "sea of mediocrity," they seek out one of a kind eyewear for their shop. They're a truly unique collection of glasses, sunglasses, and accessories appeal strongly to those who prefer to take their path, to not always be in step with the crowd.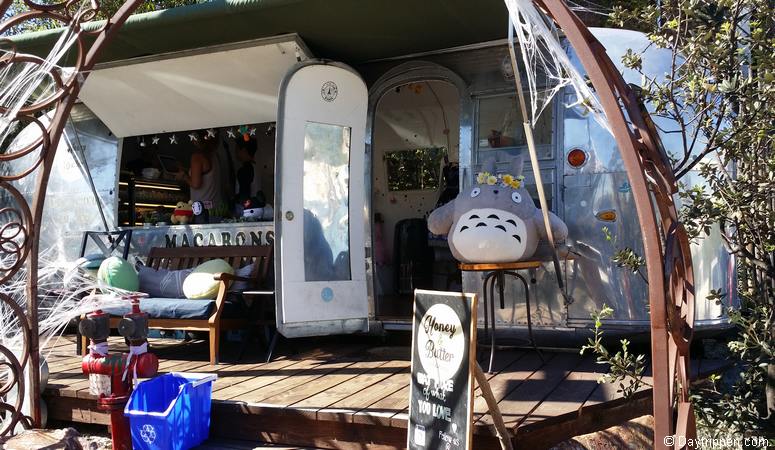 And that is one thing that all these LAB Anti-Mall businesses (and their patrons) have in common. LAB shops are looking to go above and beyond the ordinary, the average, and the "expected." They take tremendous pride in the work that they do, and they should.
Whether the proprietor is whipping you up an unforgettable vanilla chai at the Gypsy Den, or an "Urban Outfitter" is helping you slide into that perfect pair of vintage jeans, you're guaranteed to receive service with far more than just a smile.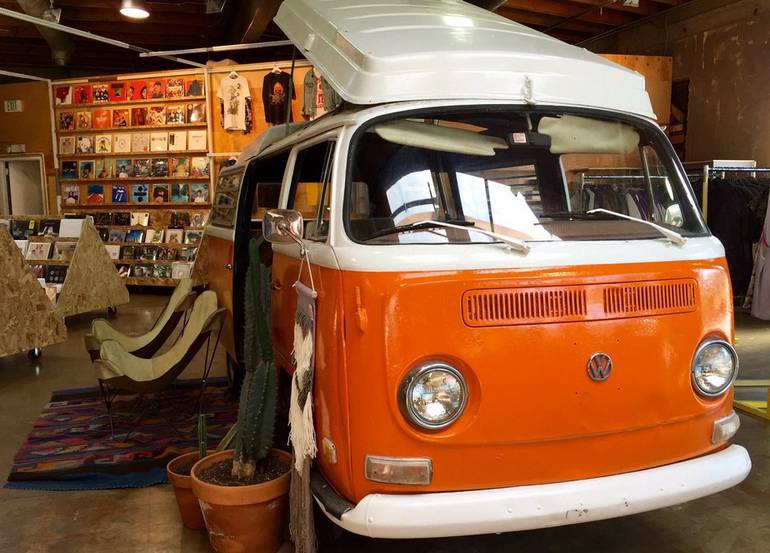 Shop till you drop. Feast on creative Cuban cuisine at Habana washed down by a magnificent Mojito. Follow it up with a hand-crafted sweet treat. We highly recommend the Nutella macaroons created by the crew at Honey and Butter.
If you've left room for coffee (and we hope you have), you'll need to stop by Cafécito Organica. Their motto? "We make great coffee for humans, by humans." Feel good, organic, fair-trade caffeine that tastes out of this world.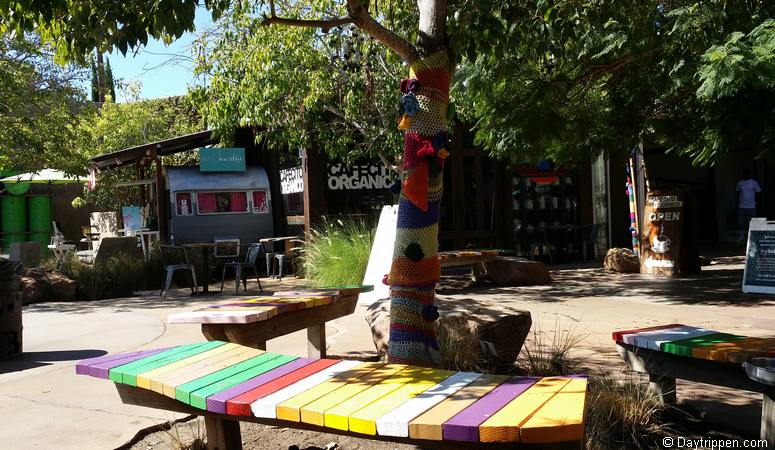 Special events are routinely organized at the Antimall, and a quick check of their website will give you the inside scoop. Live music, Full Moon Fairs, and celebrity artist installations are an excellent excuse for a quick getaway to the LAB.
You'll find the LAB Anti-Mall located about a half a mile south of the 405 Freeway on Bristol Street in Costa Mesa. GPS down and out? Just look for the hippest people on the highway and follow them.