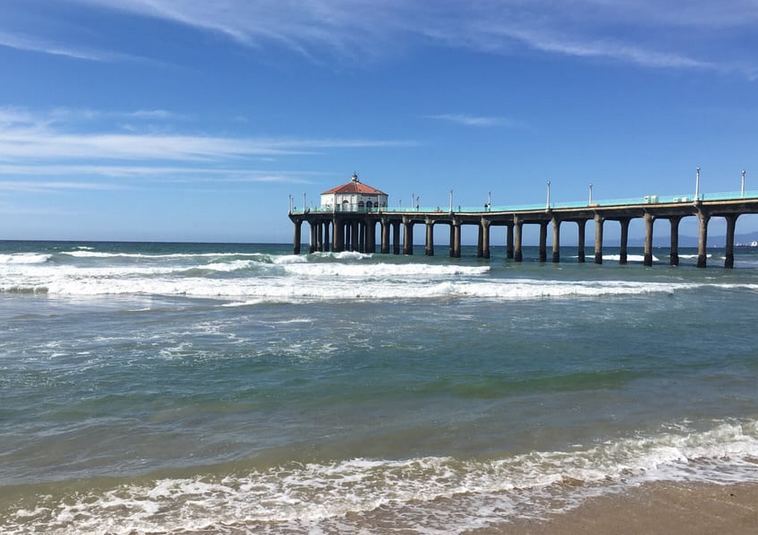 If you are looking to spend a day soaking up some of California's surf culture, then it's time for a day trip to Manhattan Beach. A place for big waves, white sandy beaches, surfers, and volleyball fanatics.
Manhattan Beach is a popular beachfront city in western Los Angeles County that has remained tied to its grassroots beginning. According to town lore, developer John Merrill named the beach for his New York hometown after winning a coin toss in 1902.
Manhattan Beach Pier
The city's centerpiece is the Manhattan Beach Pier, which for nearly a century has stretched 928 feet into the Pacific Ocean the ocean, providing remarkable coastal views unrivaled by any beach in the area. Fishing is allowed off the pier, and no fishing license is required. The pier is also a great place to watch the surfers ride the waves.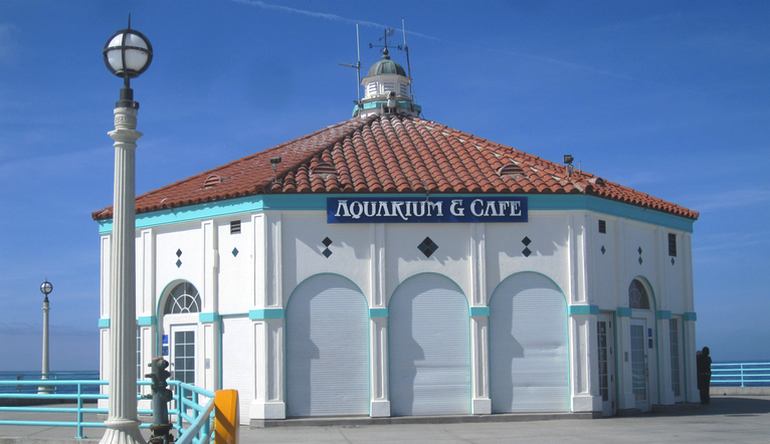 Roundhouse Aquarium  & Cafe
At the end of the pier is the red-roofed Roundhouse Marine Studies Lab and Aquarium, with its 3,500-gallon shark tank holding species native to Santa Monica Bay. The aquarium is open to the public Friday, Saturday, and Sunday. Admission to the Manhattan Beach pier aquarium is free.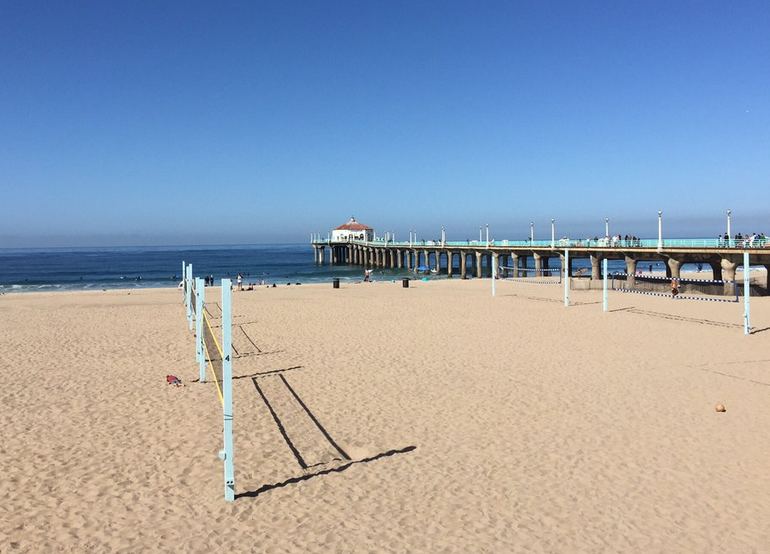 Surf and Sand
Manhattan Beach has some of the largest waves in the area, drawing die-hard surfers from all over California and beyond. On the northern end of the beach is El Porto, which is popular for beginner and intermediate surfers. El Porto also has a popular surf school called Camp Surf.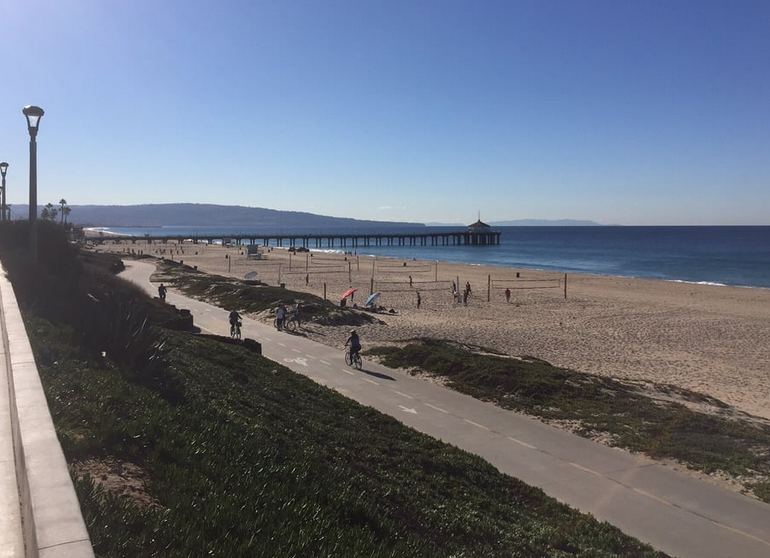 Manhattan Beach Bike Trail
Manhattan Beach is one of three major South Bay beach towns and neighboring Hermosa Beach and Redondo Beach. The Strand–a 20-mile paved path along the beach–connects them all. Along with this concrete boardwalk, you'll find a parade of people pedaling, sprinting, strolling, and rolling past a star-studded lineup of beachfront dream homes.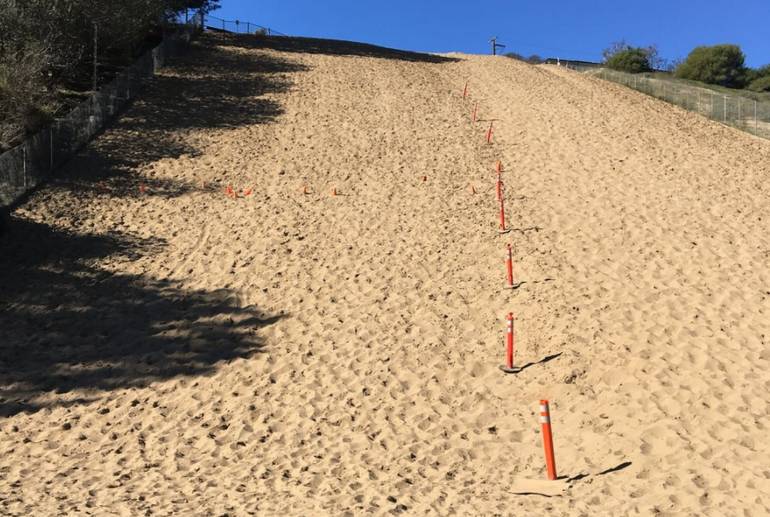 Sand Dune Park
Located in Manhattan Beach, the dune is the last remaining coastal dune in an area. Celebrities, sports figures, and common flocked to the dune for the ultimate workout—more about Sand Dune Park.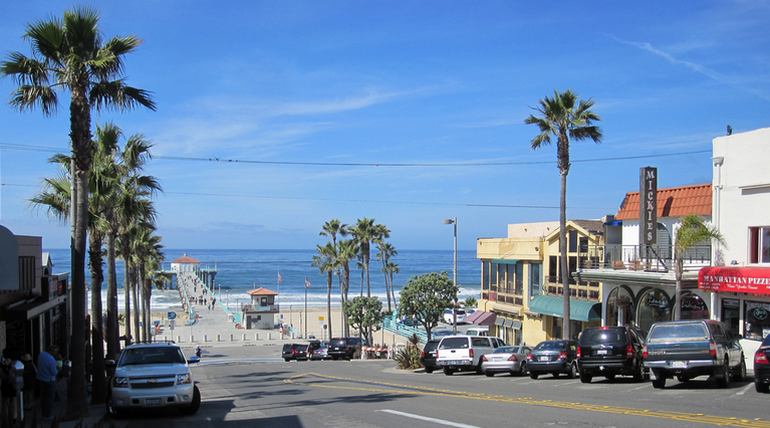 Downtown Manhattan Beach
Manhattan Beach offers a vibrant beach scene and a charming downtown shopping and dining district, filled with boutiques, art galleries, and restaurants. While some of the town's swankier establishments may require you to get dressed up, the accepted dress code here is board shorts and flip-flops.
Rock'N Fish
For those that like to watch, Rock'N Fish is a great place to grab some lunch that is close to the pier and the sand. Rock'N Fish has indoor and outdoor seating on a nice terrace. They also offer burgers, salads, and tacos—120 Manhattan Beach Blvd. website along with plenty of fresh seafood.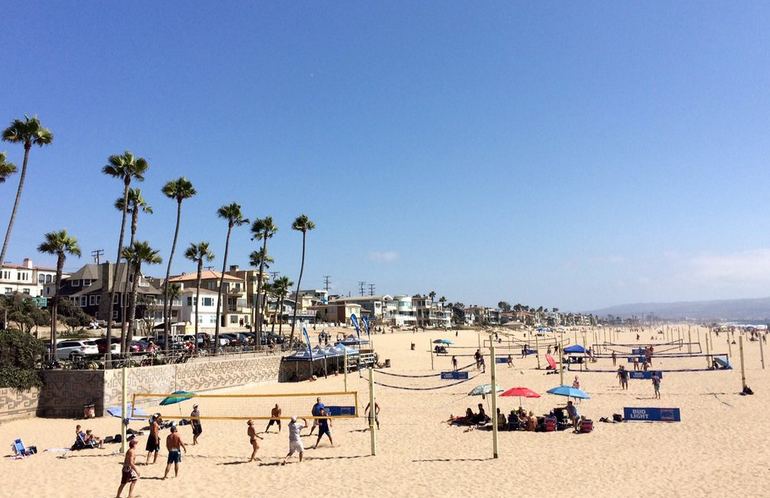 International Surf Festival
During the summer from the end of July, the International Surf Festival rolls into Manhattan Beach, complete with volleyball tournaments, lifeguard games,  soccer, beach runs, and of course, a surfing contest. Website.
If you find that one day is not enough time to enjoy this urban paradise, there is a pair of hotels just a few minutes from the Strand that will let you get a taste of what it's like to live just steps from the beach.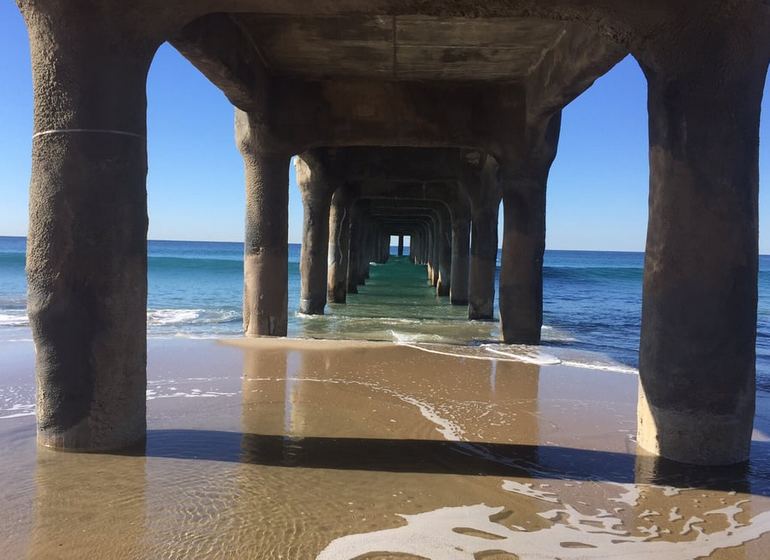 Getting There
The best time to visit the area is in spring and fall – or even winter if it isn't raining. Summer days are sometimes inundated with fog, especially in June, as well as an endless sea of tourists.
Manhattan Beach is an easy hour's drive from anywhere in the San Fernando Valley or Los Angeles. To reach the beach from I-405, exit on Rosecrans Ave. and head west to Highland Ave.