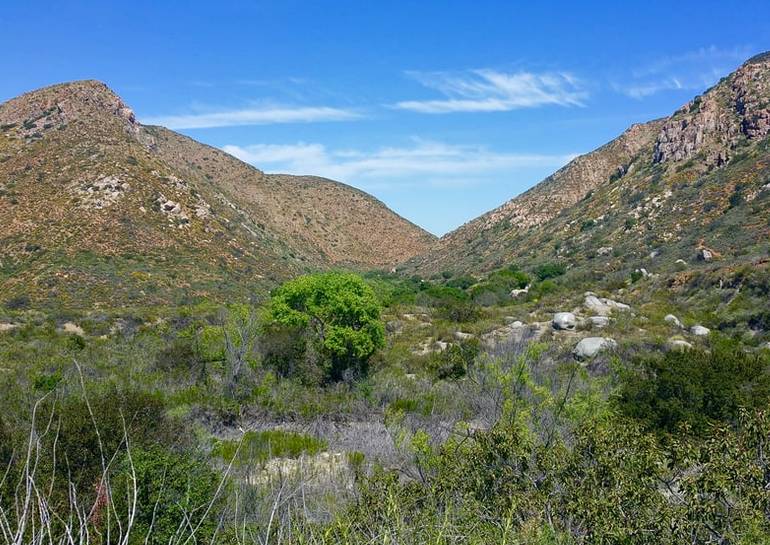 Mission Trails Regional Park is located just a few miles from downtown San Diego. Spared from land developers, the park has nearly 6,000 acres of hills, valleys, and open areas. Your first stop on your trip here should be to the visitor center.
Here you can learn about the park's history, watch a movie and find the various hiking trails and destinations available. Mission Trails is a great park for hiking and biking. The park's showcase native chaparral is at its finest. Climb Cowles Mountain to see all of San Diego on a clear day.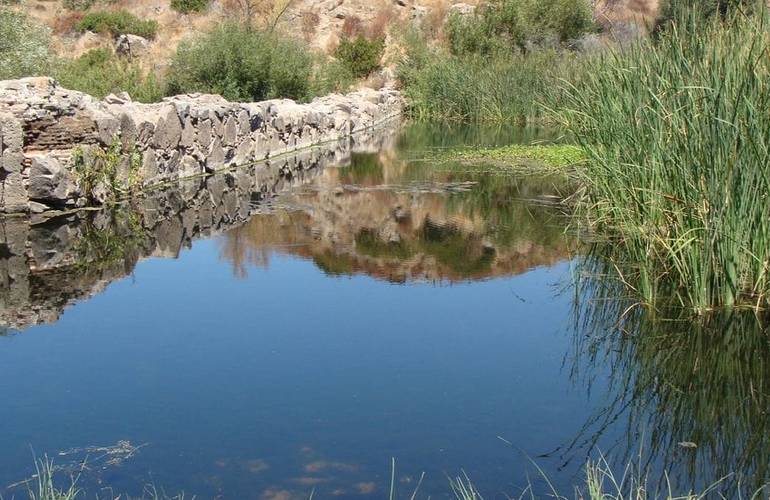 Mission Dam
One of the more interesting things to see in the park is the Mission Dam. Built across the head of Mission Gorge, the 244-foot long dam was used to supply water to Mission San Diego de Alcala. Water traveled along a 6-mile flume from the dam down Mission Valley, ending in a settling basin near the Mission.
The Mission Dam is a nationally registered historic landmark and a starting point for several of the park's hiking trails. Lake Murray Reservoir also is very popular for bicycling, jogging, hiking, and picnicking.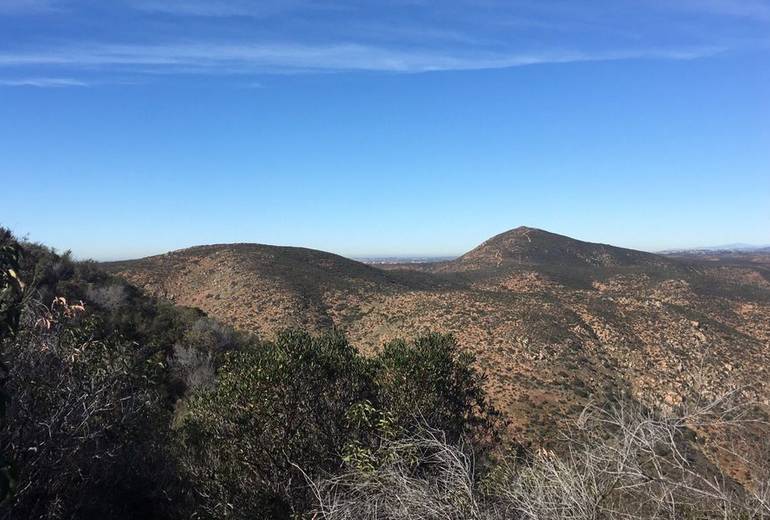 Five Peaks Challenge
Mission Trails Park features a fun adventure for outdoor enthusiasts. The challenge is to summit all five peaks in the park and then take a picture of yourself or the group next to the sign at each summit. Take as long as you want, maybe do one conference each weekend, and when you have completed the challenge, email your selfies and contact information to the park ranger.
Once verified, you will receive an official 5-Peak Challenge certificate, logo pin. And a coupon for a local outdoor recreation store. More info on the Five Peak Challenge here.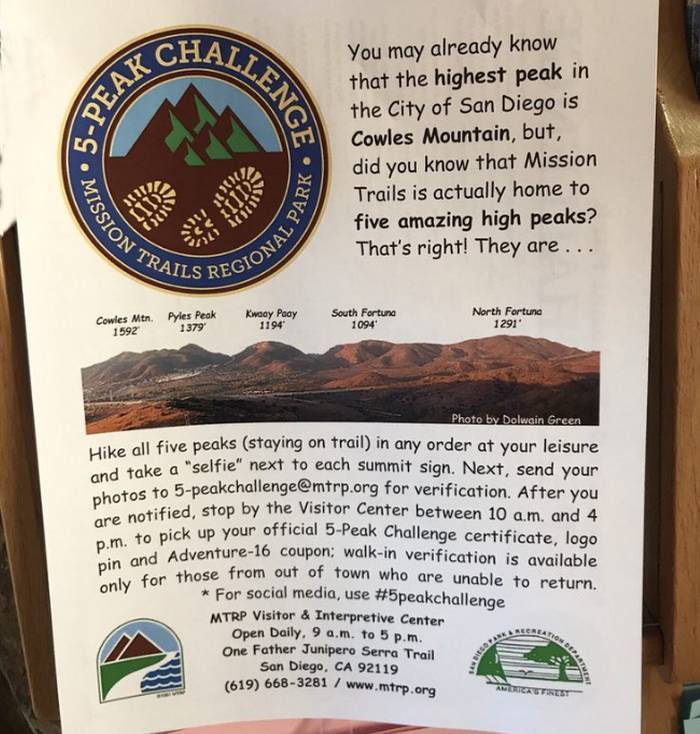 Mission Trails Park Camping
Kumeyaay Lake Campground offers 46 primitive sites (no water or electricity) for tents or recreational vehicles.  The Kumeyaay Lake Campground is open for Friday and Saturday night camping. The campsites are available for reservation on a first-come, first-serve.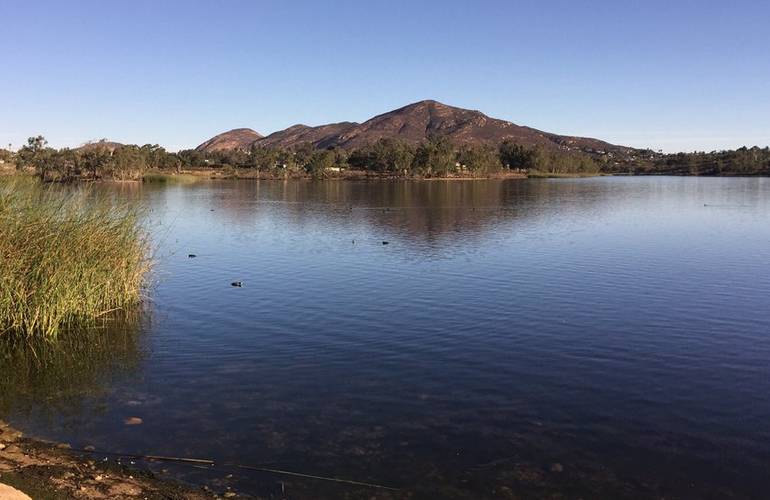 Lake Murray Reservoir
Lake Murray Reservoir is located within Mission Trails Regional Park. The lake is open for shore fishing and private boats seven days a week. The reservoir has largemouth bass, bluegill, channel catfish, black crappie, and trout (stocked November-May).
The minimum size limit for bass is 12 inches. Fish limits are 5 for trout, bass, catfish, and you may only have a combined bag limit of 25 sunfish and crappie of all species, with no limit on other species. A state fishing license is required. There is no camping allowed at Lake Murray.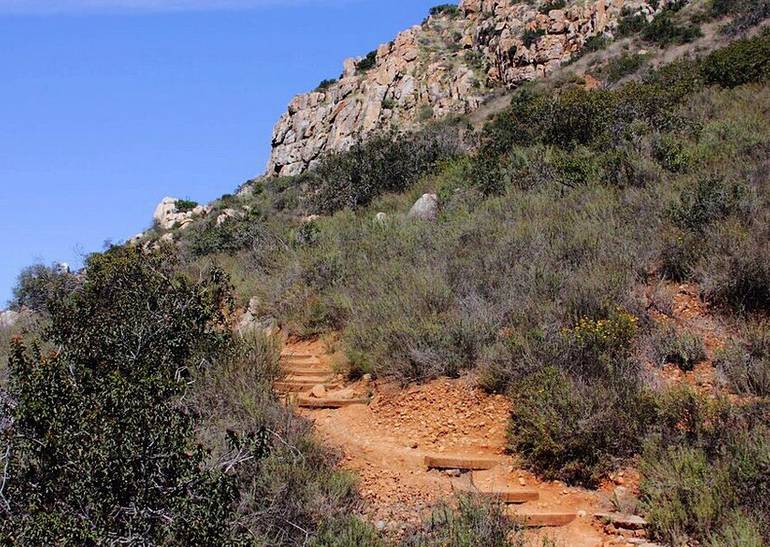 The most popular trail at the Mission Trails Park is the Cowles Mountain trail, which takes hundreds of people per day to the summit for a breathtaking 360-degree panorama of San Diego County. Park trails range from flat and easy to somewhat challenging. Bring a camera, a hat, water, and good hiking shoes, and enjoy the natural beauty of this wonderful San Diego regional park.
Mission Trails Regional Park One Father Junipero Serra Trail San Diego, CA. Website.  92119-1008.