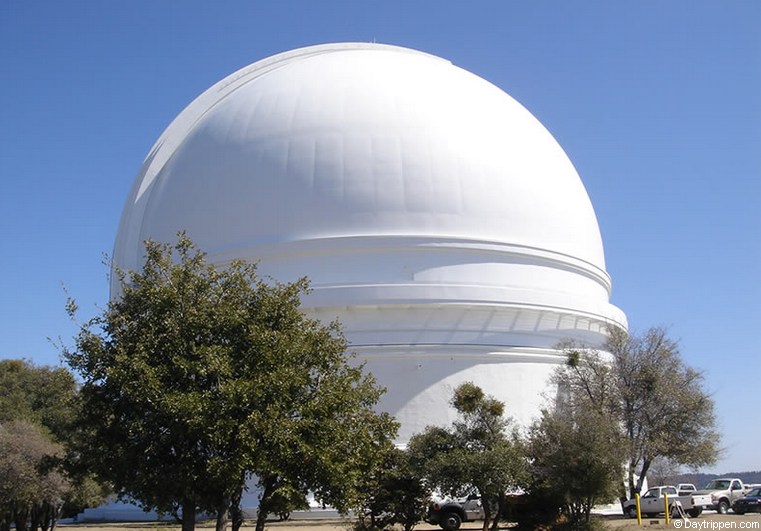 High above the bustling suburban sprawl of San Diego city life, Palomar Mountain Observatory is a welcome break to travelers trying to escape the hustle and bustle of other parks that are often overcrowded with visitors looking for a weekend retreat.
This surreptitious gem is one of the few southern California areas with a Sierra Nevada-like atmosphere, and with over 1,600 protected acres for picnics, fishing, and camping purposes, Mount Palomar State Park is a perfect hideaway for nature-lovers.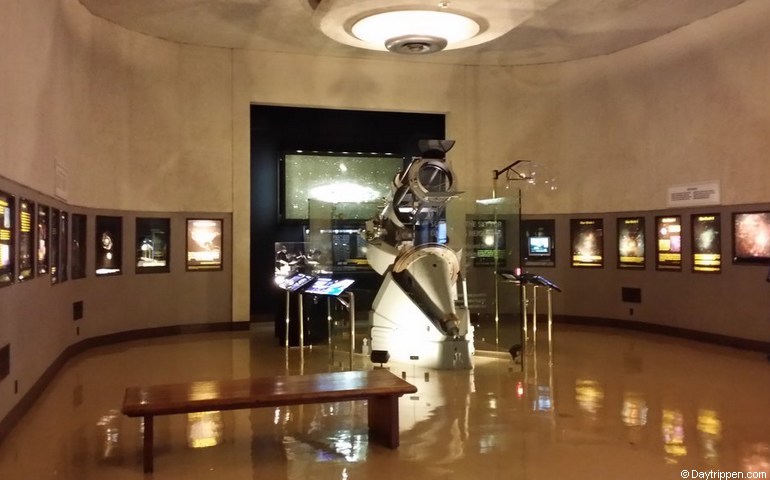 No visit to Palomar Mountain would not be complete without a visit to the centerpiece of the area–Palomar Observatory. One of the most amazing scientific marvels in the United States.
Visiting Palomar Mountain Observatory
Palomar Mountain Observatory is home to four revolutionary telescopes that have aided scientists and astronomers discover new and exciting stars that comprise our Milky Way Galaxy galaxies, and other galaxies beyond our own, as well as asteroids, comets, and quasars, which take billions of light-years to reach Palomar Observatory.
The neat thing is, these remarkable telescopes are still used on every clear night of the year and are open to the public for viewing and learning on a regular basis.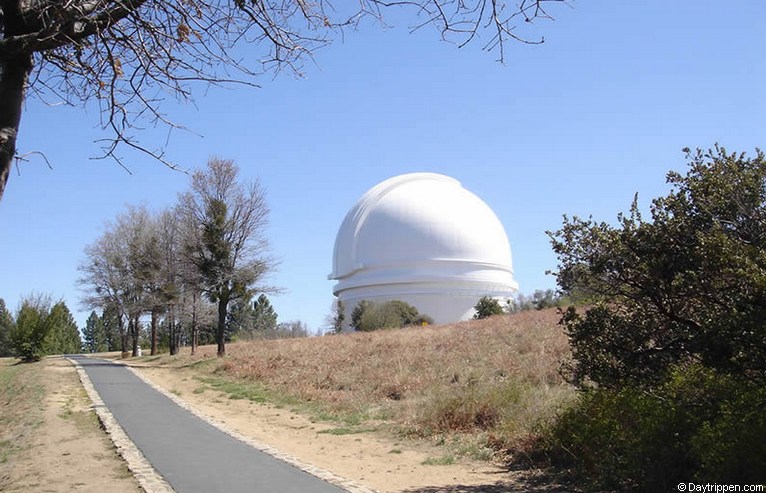 Nearby is the Palomar Observatory museum that houses displays about the telescopes and the engineering feats that allowed the Observatory to be constructed, as well as an interesting narrative about how the invention of Pyrex allowed the 200-inch mirror to be cast since it doesn't contract and expand very much.
Guests are invited to spend an evening stargazing under the night sky atop Palomar Mountain and will have the opportunity to view the cosmos through multiple telescopes with the help of Palomar's skilled docents. There are also guest astronomy speakers that will educate and enthrall those interested in the mysteries of space.
The Palomar Mountain Observatory tour lasts approximately eight hours including travel time and leaves at 3 pm on scheduled days.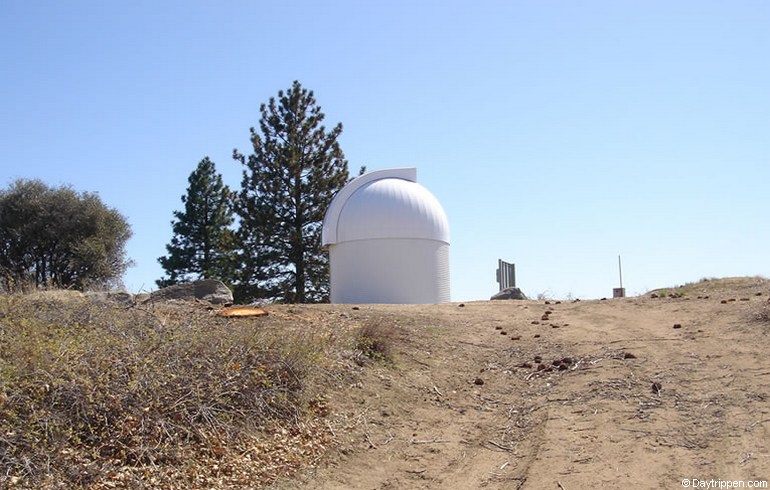 There are also great pictures of the universe and the usual mind-blowing astronomical numerical comparisons. Most of the displays are images and text or computer touchscreen displays, so there are not many tactile exhibits for small kids. A small gift shop selling astronomically theme shirts and other neat souvenirs is on site.
Palomar Mountain State Park
Palomar Mountain State Park offers dense Coniferous forests with Lupine and buttercups that bloom on-site, while squirrels and raccoons run about the parks Doane Pond, filled with bluegill, catfish, and trout stocked on a regular basis.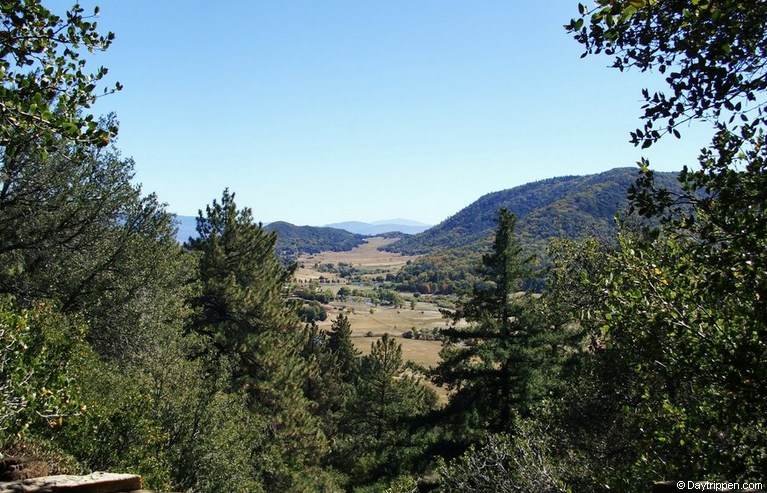 Within the confines of the park is the Doane Valley Campground, which is adjoined by some excellent trails including the Doane Valley Nature Trail, a half-mile leisurely nature walk along a trickling stream to a pond. Among the plant life found along this trail are the box elder, creek dogwood, wild strawberry, mountain currant, and Sierra gooseberry. Hikers will also see a 150-foot tall incense cedar.
Trail maps can be purchased from the Palomar Mountain General Store, which also has books and other various items to help you make your way around the mountain without getting lost.
There are three campgrounds in the area, with some that feature spectacular views of the Pacific Ocean and some offering flush toilets and hot showers.
The campground also serves as the trailhead for the Observatory Trail, a 2.2-mile trail that begins with an uphill hike that ends at the Palomar Observatory entrance gate. This trail has an excellent few of Mendenhall Valley, one of the many meadows on Palomar Mountain from a large wooden platform.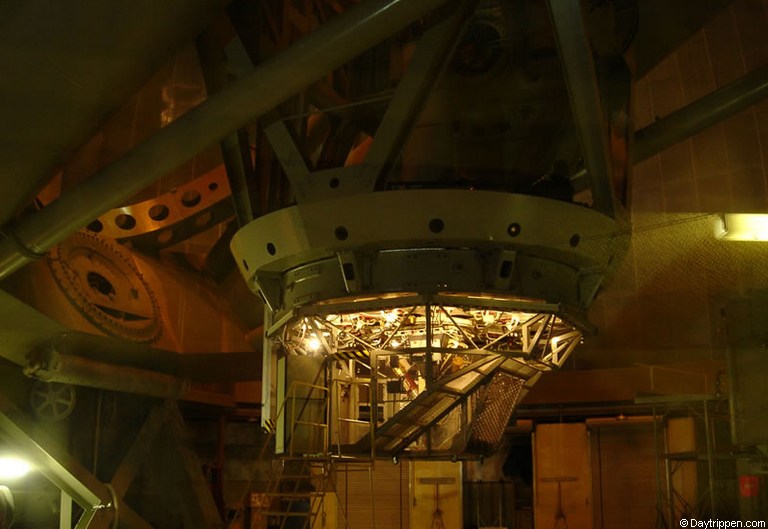 Palomar Observatory Hours
Palomar Observatory is open daily from 9:00 am to 4:00 pm. (closed December 24th and 25th). Palomar Observatory Gift Shop is open on weekends and during the summer from July 1st to August 31st. If you plan on visiting the Observatory from the San Diego area, you may want to consider the Palomar Observatory Astronomy Tour that leaves from the Reuben H. Fleet Science Center in Balboa Park.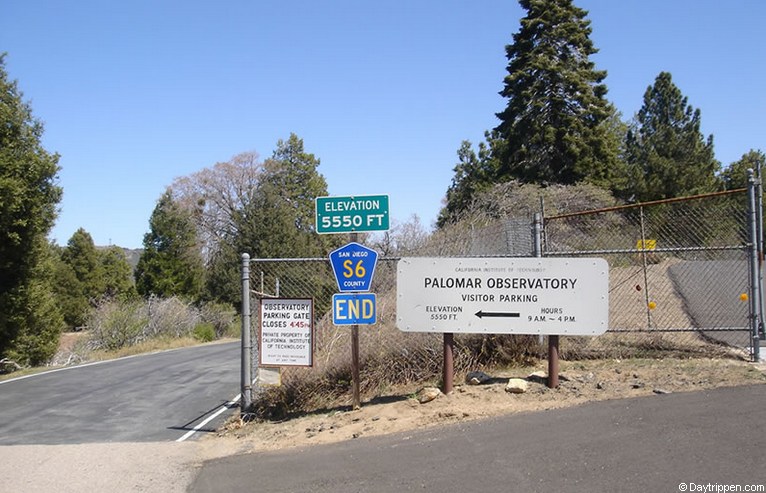 Where is Palomar Mountain Observatory
Only a two-hour drive from San Diego and three hours from Los Angeles. Palomar Mountain has something for everyone and is a beautiful and educational place to visit for both adults and children.
Palomar Observatory is located within the Cleveland National Forest on Palomar Mountain in north San Diego County at an elevation of 5,500 feet above sea level. Directions: exit Interstate 15 at state highway 76 eastbound.
Twenty-five miles from the interchange, County Road S-6 exits to the left and climbs to the Palomar summit and ends at the Observatory gate. San Diego County road S-6 is a mountain road with many curves make sure your car is in good working condition before you attempt this day trip.
Snacks and food are available at the Palomar Mountain General Store. Mother's Kitchen adjacent to the general store serves up tasty vegetarian dishes. Palomar Mountain Observatory 35899 Canfield Road Palomar Mountain CA 92060-0200
More Southern California Observatories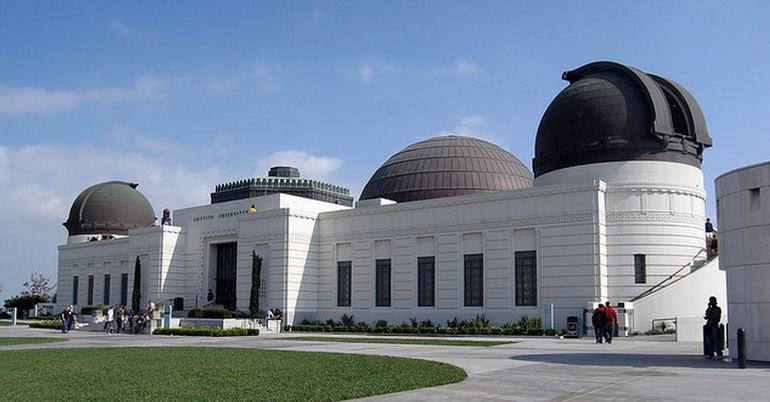 Inside the observatory, you will find the planetarium theater, a huge triple-beam solar telescope, and three levels of fascinating hands-on exhibits and displays. Admission and parking are free at the Griffith Park Observatory.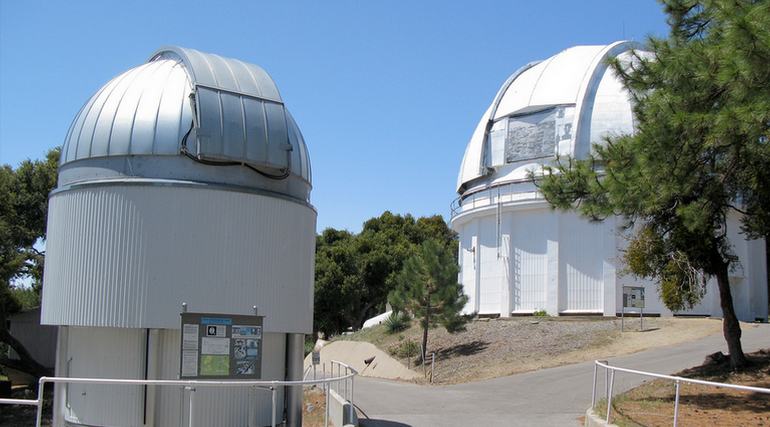 Mount Wilson Observatory. Home to two historically important telescopes, which have played an important role in modern astronomy, the observatory was founded in the early 1900s by George Ellery Hale.