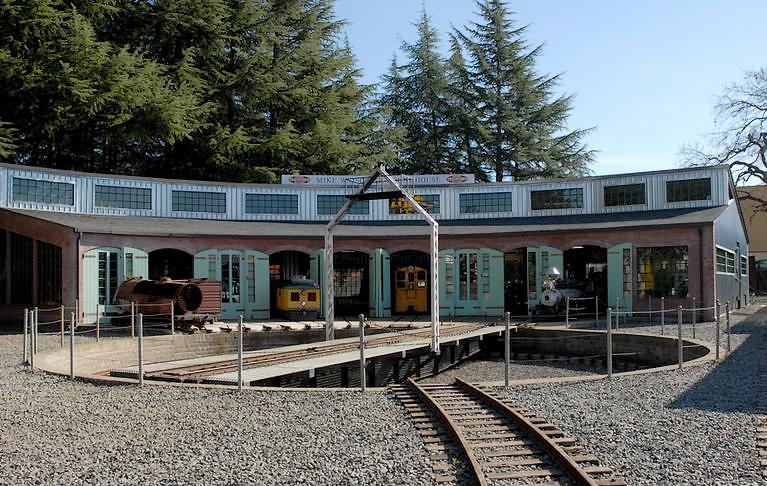 Sonoma Train Town Day Trip
Located in the heart of Sonoma County, Sonoma Train Town has been entertaining locals and travelers since the late 1960s. Just 13 miles west of Napa and about an hour north of San Francisco, this charming amusement park is a perfect day trip for grade school children and railroad enthusiasts of any age.
Parents and grandparents will appreciate the budget-friendly prices while the kids revel in the carnival-like atmosphere. There is a small fee for park rides and train tickets but no general admission fee for visitors who prefer to keep their feet on the ground and skip the rides.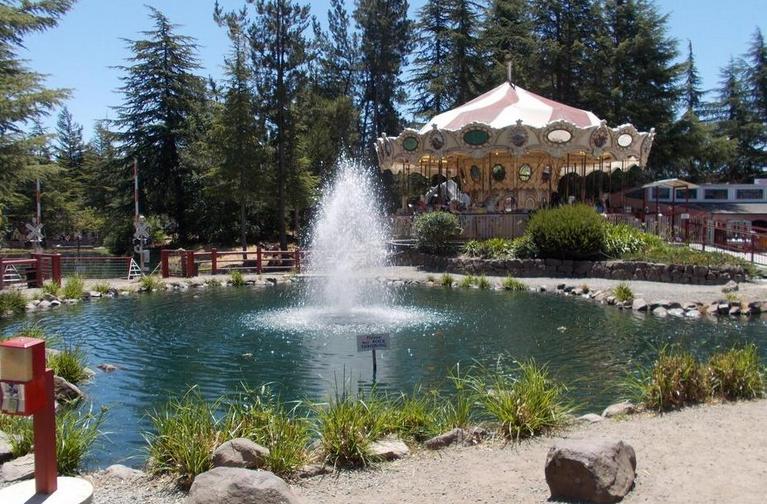 Be sure to bring a camera to capture the kids' bright-eyed, excited faces enjoying the sights and sounds of this colorful theme park.
A one-fourth scale railroad takes passengers on a nostalgic cruise through 500,000 square feet of the scenic park. In addition to the one-fourth scale models, Sonoma Train Town is home to several full-size train cabooses that greet visitors at the entrance.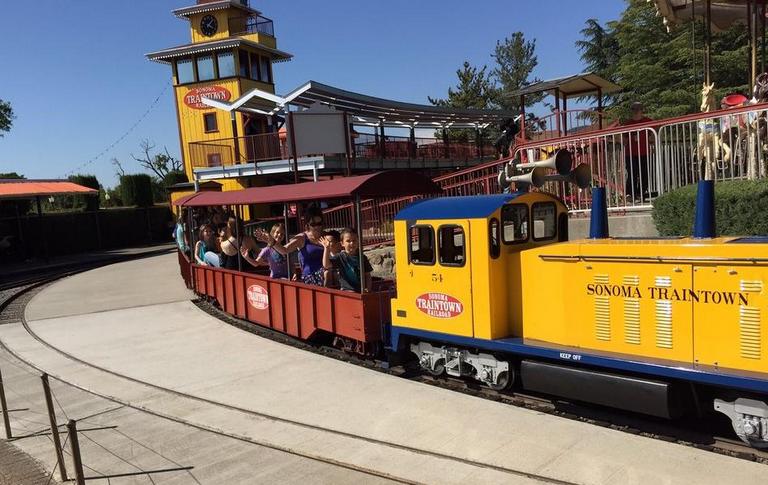 The railroad also has a large turntable that connects to 11 tracks. The turntable is attached to an expansive, semicircle "roundhouse," which can house up to nine locomotives and makes this portion of Sonoma Train Town the most elaborate miniature turntable and roundhouse combination in the world.
Sonoma Train Town was built by the late Stanley Frank, who worked as a printer but had a strong passion for model trains. That passion led to a big dream that would come to fruition after Mr. Frank purchased a flat, 10-acre property in Sonoma and construction of Train Town.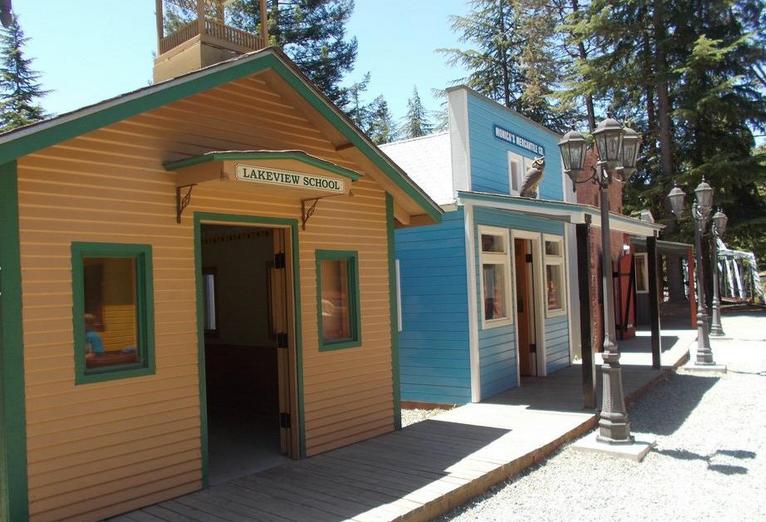 Stanley Frank wanted his railroad and amusement park to resemble a historic Old West scene that would have existed in the Sierra Foothills in the late 1800s. He and his son planted over 1,000 trees and laid the railroad's ties and spikes by hand.
A 15-foot waterfall was completed in 1989, and several waterways further contribute to Train Town's appeal.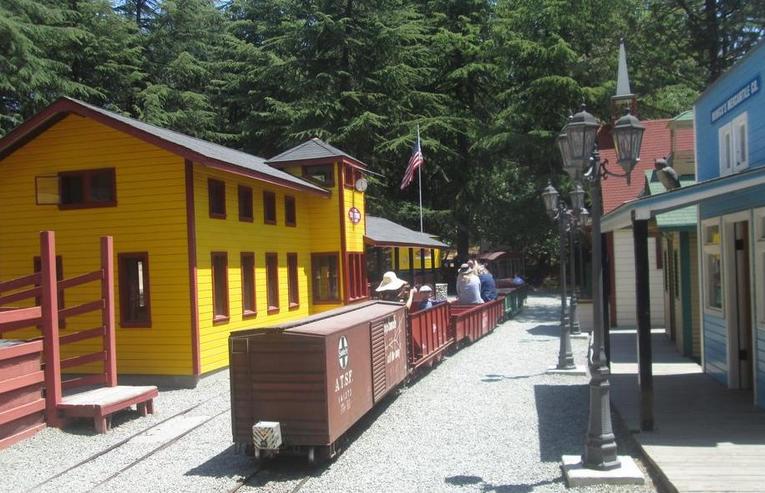 Sonoma Train Town railroad riders embark from a two-story loading platform complete with a decorative clock tower. The 20-minute train ride covers more than four miles of track as it travels over bridges and passes through tunnels. The trains make a short stop at the miniature town called Lakeview.
Lakeview has a saloon, mercantile shop, school, jail, outhouse, and water tower. Sonoma Train Town's petting zoo is also located in Lakeview. Guests can feed the friendly goats, alpacas, chickens, and other critters who call Sonoma Train Townhome for just a few coins.
In addition to the railroad, six amusement rides, complete with railroad-themed names, can be found in the park. The rides have height restrictions, but most will allow any height if accompanied by an adult.
The Iron Horse Carousel and Sonoma Train Town Airlines are good choices for small children. The High Iron Ferris Wheel, Locomotion Scrambler, Dragon Train Coaster, and Chatanooga Choo-Choo Chairs are fun for slightly older and braver riders.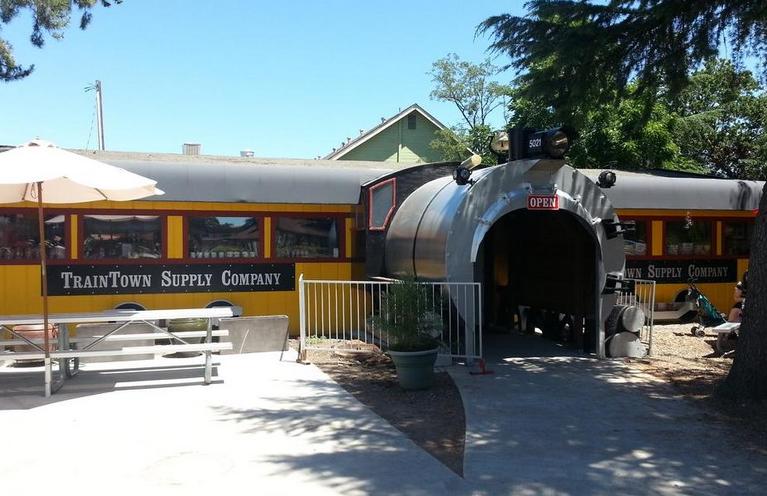 Guests can purchase food at Sonoma Train Town's Track Snack & Souvenir concession stand. The stand offers hot dogs, corn dogs, nachos, and a few other options in addition to drinks and sweet treats. Train Town-themed gifts can also be purchased at the stand.
Train Town is a great place to host a child's birthday party. Rent space at the picnic tables for a reasonable hourly fee or opt for the Party Package, which includes the picnic tables and various goodies for a per-person rate.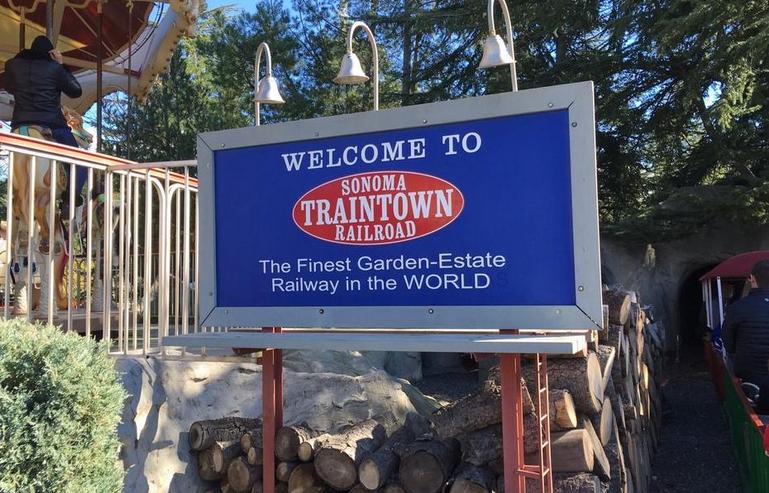 Where is Sonoma Train Town
Sonoma Train Town is open daily from June 1st until Labor Day. From Labor Day through May 31st, the park is open on weekends and has limited hours on Fridays. The park is closed on Thanksgiving Day, Christmas Day, and rainy days. Guests are encouraged to call in advance for possible schedule changes.
Train Town and its train rides are handicap accessible. Free parking is available in the small lot outside the park. There is also free street parking on Broadway (Highway 12) or nearby Clay Street. Sonoma Train Town 20264 Broadway, Sonoma, California. Train Town Website.