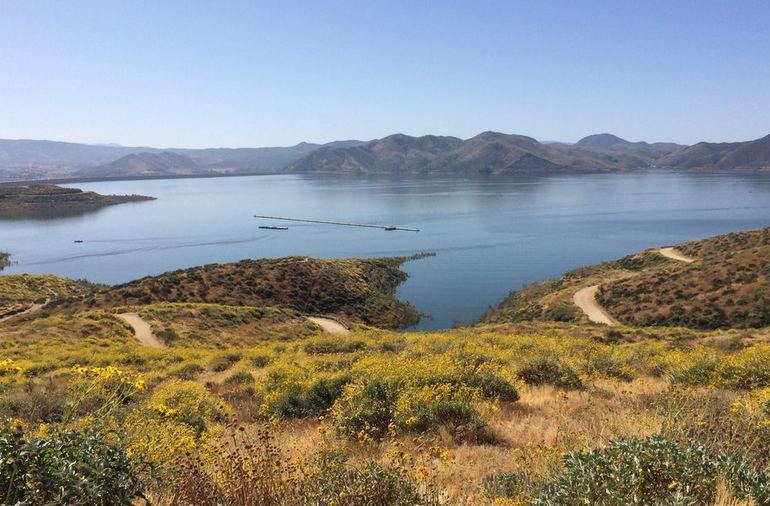 If you're seeking an oasis and prime fishing hole, a return to nature at its finest, Diamond Valley Lake is where you want to be. Located in the valley of the San Jacinto mountain range in Hemet, California, the lake serves as an important storage reservoir for Southern California, providing water for summer droughts and emergency needs.
Recreation at the lake consists of fishing, hiking, and wildflower viewing. Numerous fishing tournaments take place on the lake annually, including such big events as WON Bass, ABA, and National Bass West. The lake features several freshwater fish species, including largemouth and smallmouth bass, bluegill, crappie, rainbow trout, striped bass, channel catfish, and shad.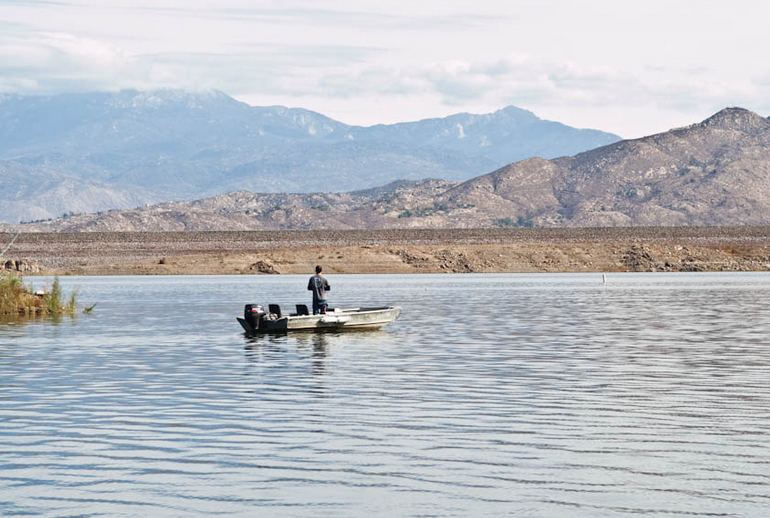 Fishing at Diamond Valley
Diamond Valley Lake is one of the best fishing spots in California. To respect the habitat, limits are set on the number and size of catches. This is five or 10 catches per day for most types, but please check beforehand to verify current restrictions.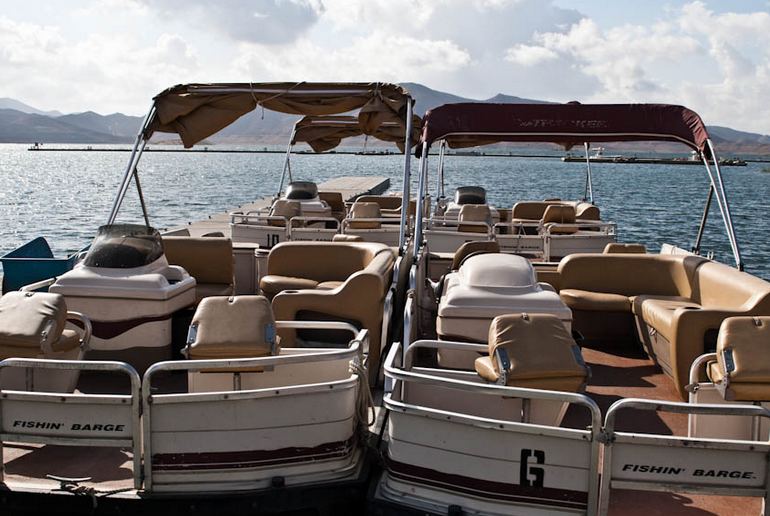 Boat Fishing
Bring your own boat, or you can rent one at the DVL marina. Boats can be rented by the hour, half-day, or full-day. Deluxe Pontoon Boat, Pontoon Boat, Deluxe Bass Boat, Bass Boat, or a basic Fishing Boat are available. Hourly rates start at $25.00 and up. For more information, visit the marina website.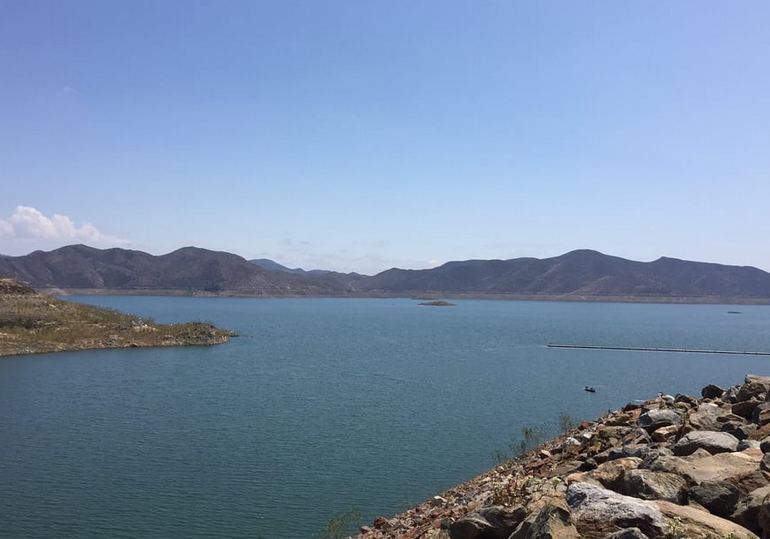 Shore Fishing
No boat, no problem. The shoreline offers a rugged trail, which runs 1.5 miles North West of the east marina boat ramp. Signs show which places allow fishing, so stay in designated areas. An entrance fee and a $2.00 Lakeview Trail Fee are required for shore fishing.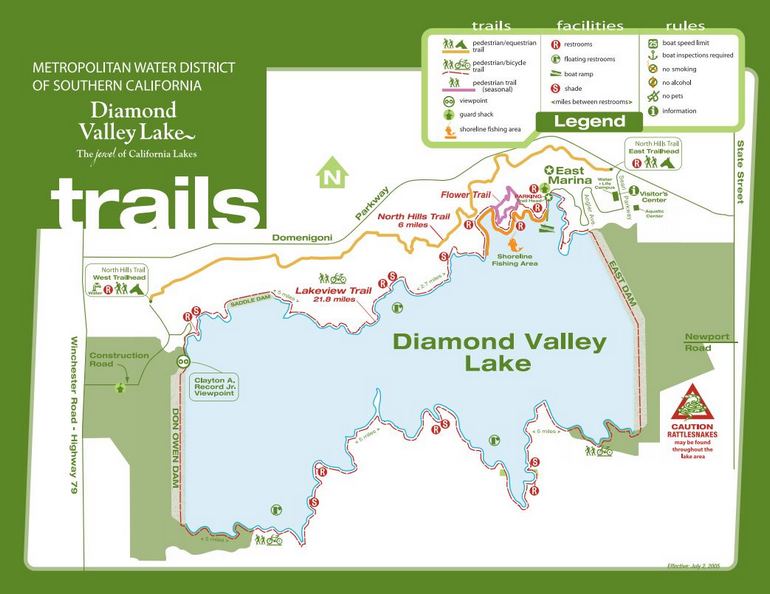 Hiking Diamond Valley Lake
The most popular trail runs along the north hills that overlook the lake. This trail is a great choice for hikers and horse riders and runs close to six miles. The second trail is the 26-mile hiking and biking trail that circles the 4,500-acre lake. This is a great long trail option that runs through the summers blooming flowers.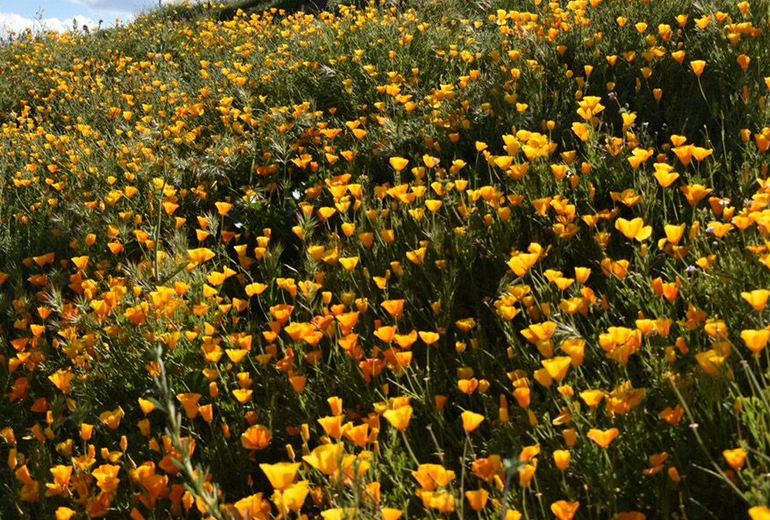 Wildflowers Diamond Valley Lake
Spring into early summer, the wildflower bloom around DVL can be amazing. The most abundant flower is the California Poppy. You may also see Baby Blue Eyes, Arroyo Lupine, California Goldfields, Brittlebush, and Canterbury Bells scattered across the rolling hills surrounding DVL.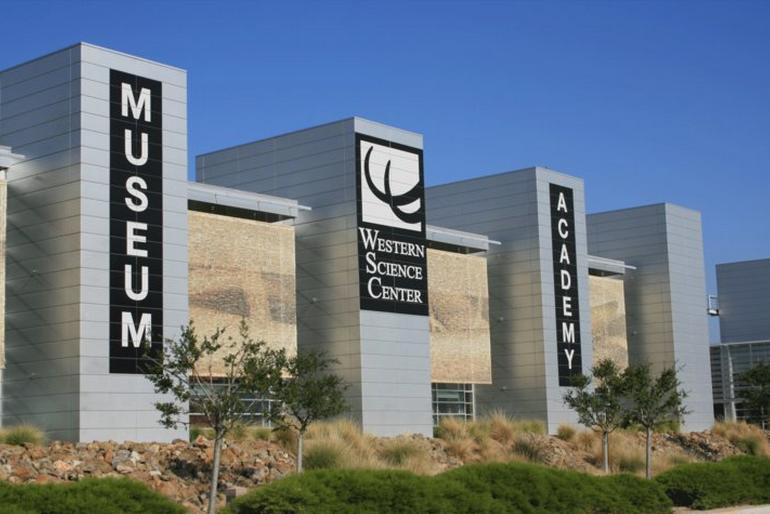 Western Science Center
Western Science Center is located at the entrance to DVL and is well worth a visit. Many of the artifacts on display were unearthed when Diamond Valley Lake (the largest artificial reservoir in Southern California) was under construction. A visit to Western Science Center will only take about an hour, so we suggest stopping by to round out your day trip.
DVL Aquatic Center
At the east dam, the area is a recreational area that includes a swimming pool, soccer and playing fields, and a prime picnic area. While light food is available, it's best to plan to bring a picnic for the family. The Aquatic Center's pool is turned into a mini water park with slides and water toys during the summer.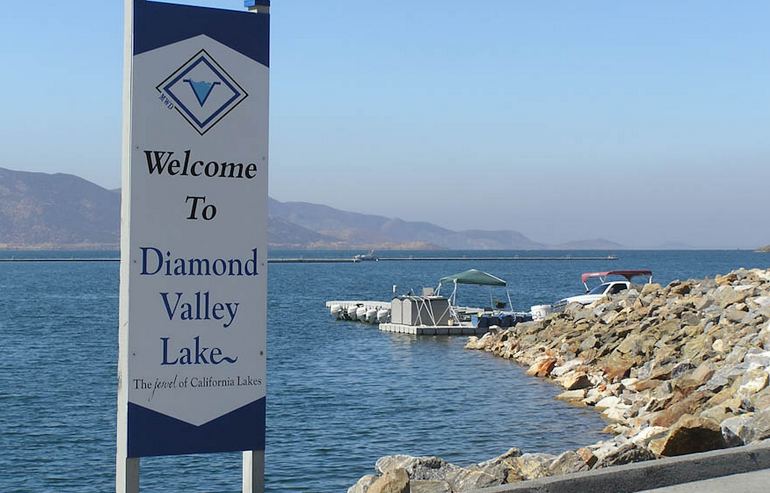 Where is Diamond Valley Lake
Check weather conditions ahead of time, as winters are mild, but summers can break 100 degrees. The lake is open from 6 am to 6 pm. Diamond Lake is about 1.5 hours from Los Angeles and the same distance from San Diego via the 15 freeway from the south or the 60 freeway from the west.