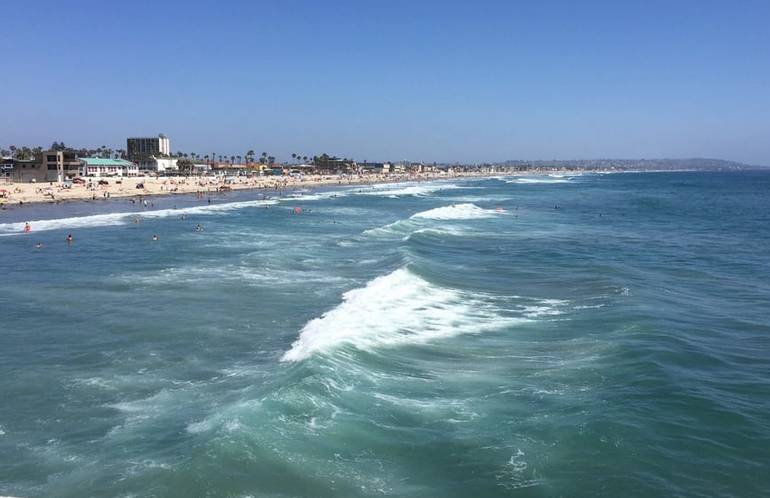 Mission Beach is a small community in San Diego reminiscent of an east coast beach town. If you dream of beaches like Atlantic City and Coney Island, then here is the spot for you.
Formerly a summer getaway spot, many of the cottages built between the 1920s and 1940s are still around, but most have been turned into condos or two-story homes. Nearby communities Ocean Beach to the south and Pacific Beach to the north were the first to develop, but as the need for land grew, developers built a bridge in 1914 to link the communities.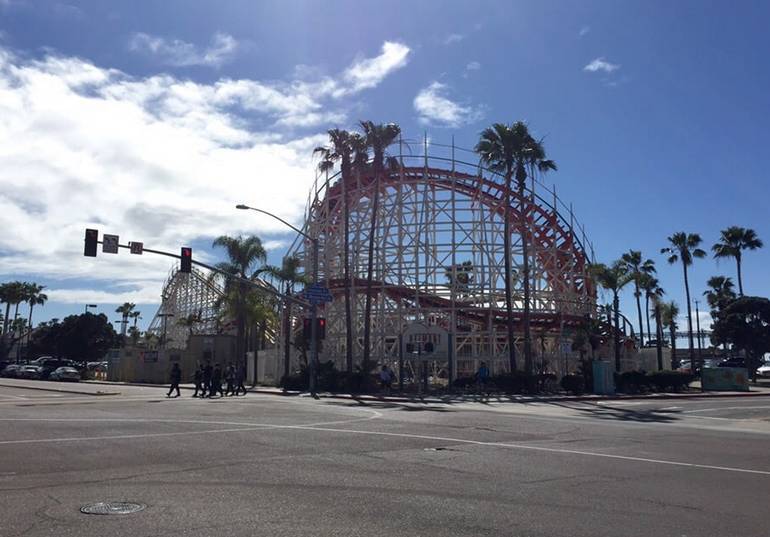 A boardwalk borders two miles of pristine oceanfront on both the ocean and bay sides of this friendly community. The main strip through town is Mission Boulevard. Historical at the intersection of Mission Blvd and West Mission Bay Drive is an amusement park to delight the teens.
Initially built in 1925 to stimulate real estate sales, Belmont Park now features the original wooden Giant Dipper Roller Coaster. Newer rides include the Flow Rider, Vertical Plunge, Krazy Kars, Liberty Carousel, Crazy Submarine, and The Beach Blaster, to name a few.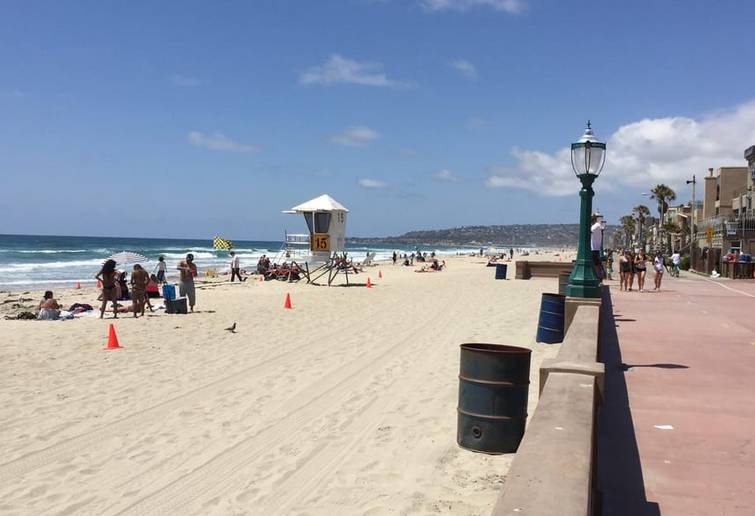 As you tour the community, you will find an eclectic mix of people. You will see everything from artsy types, to fashionistas in designer sunglasses. A healthy dose of middle-age professionals keeps things well rounded. Whatever outdoor adventure you seek, Mission Beach is bound to have it.
Architect Frank Walter Stevenson contributed his creativity to the Mission Beach Plunge in Belmont Park. First opened in May 1925 as the Natatorium, the 60-foot -the by-175-foot swimming pool was at the time the largest saltwater pool in the world and held 400,000 gallons. The pool was a popular spot for celebrities to catch a swim in years past.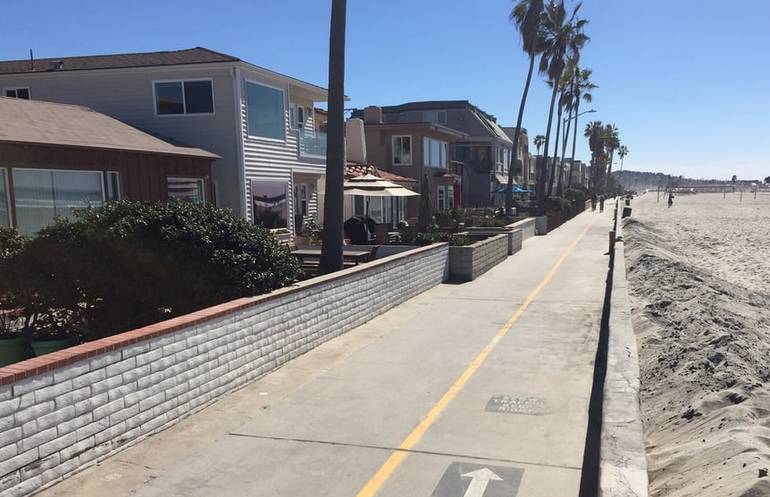 Of course, no beach can call itself a beach without a healthy dose of volleyball. You'll spot plenty of people enjoying the perfect 72-degree weather by bike riding and people watching, including students from nearby San Diego State University and the University of San Diego.
Many celebrities make homes nearby, so it may be worth stopping to take a look around. Local rollerblade and skating club, "Skate This!" perform free weekend shows along the beach demonstrating their mastery of trick skating and dancing.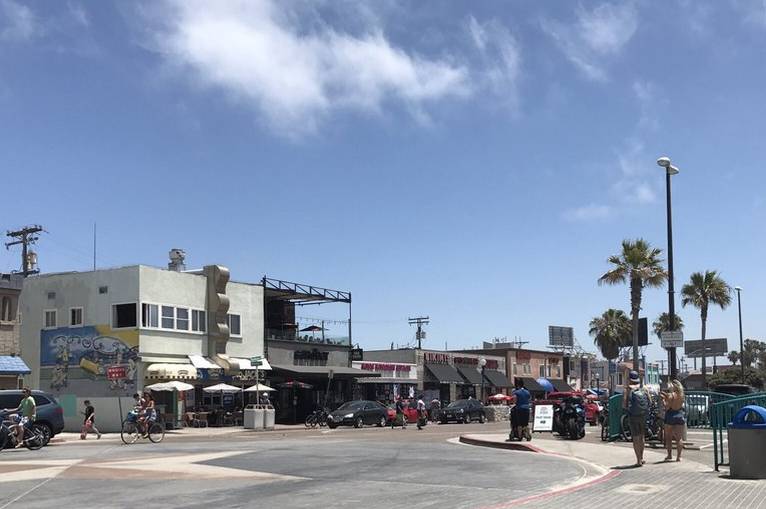 Mission Beach has many well-known beach-style bars. Sandbar Sports Grill is one of the most popular. The Beachcomber and The Pennant in South Mission also have their share of regulars. I
At South Mission Beach near the end of the boardwalk, fishers cast their lines. It's a great spot to watch the boats pass through the Harbor Channel. On bright enough days, you might spot a series of shipwrecks a half-mile off the coast. They were placed to create an artificial reef and a diver's paradise.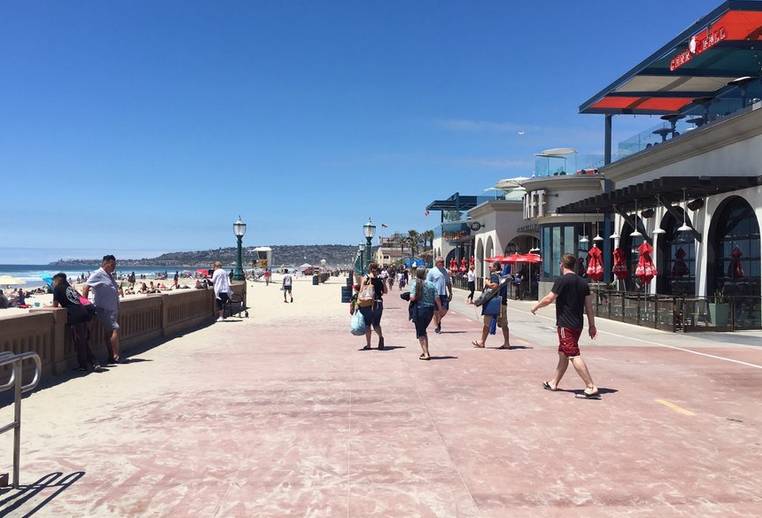 Food comes in all varieties. Vegan Zone on Hornblend Street serves animal conscious fare. Café Gecko offers ice cream and sandwiches. Shrubbery Taverna is a bit more romantic but known for its great food. Oceania is a pub-style restaurant serving Mexican food. Wheat's Steakhouse is there if you need a good strip of meat.
Parking is hard to come by, with residents taking most of it. Public parking lots are available around Belmont Park, Santa Clara Point, and South Mission Beach Park.
Consider renting a bike and enjoying the weather and sites at a more up-close view. Mission Beach is a 2.5-hour drive south of the San Fernando Valley and an hour and a half south of Orange County.